Tokyo Pop Guide No.3 will be released on 10th November with fashion themed articles are contained. Character and Apparel maker Cospa is featured as the pioneer of the world famous Full graphic T-shirt to explain how it's made. There are articles about Eshi 100 06 and the creator wingheart and the way of creating light novel illustration.
Tokyo Pop Guide No.3がいよいよ11月10日に発売します(ただいま、Amazon.com にて予約受付中)。今回のテーマはオタクとファッション。Tシャツからバッグ、グッズまで幅広く製造を手がけるアパレルメーカーコスパのフルグラフィックTシャツにフォーカスした記事や、絵師100人展 06、そしてクリエイター特集など盛りだくさんの記事と51店舗のショップ・施設情報をお届けします。
Also we have exclusively featured the world top anime "Love live! Sunshine!!" as we visited anime pilgrimage of Numazu, Shizuoka.
また、新企画としてスタートした「アニメの舞台訪問」記念すべき第一回目は「ラブライブ!サンシャイン!!」で有名な静岡県沼津市の様々なスポットにフォーカスし、あの名場面と共にご紹介していきます。
※ P81右下の表記の掲載情報に間違いがありました。
[TRANSPORTATION GUIDE FROM TOKYO]の新幹線情報の内、上から2番目のJR SHINKANSEN HIKARI(45 mins)は間違いです。ご購入された方はこちらのURLからダウンロードをお願いします。この度は大変申し訳ございませんでした。

* On Page 81 There was a mistake in the information on the notation in the lower right.
Shinkansen information of [TRANSPORTATION GUIDE FROM TOKYO], the second from the top JR SHINKANSEN HIKARI (45 mins) is a mistake. Those who purchased, please download from the following URL. We are really sorry this time.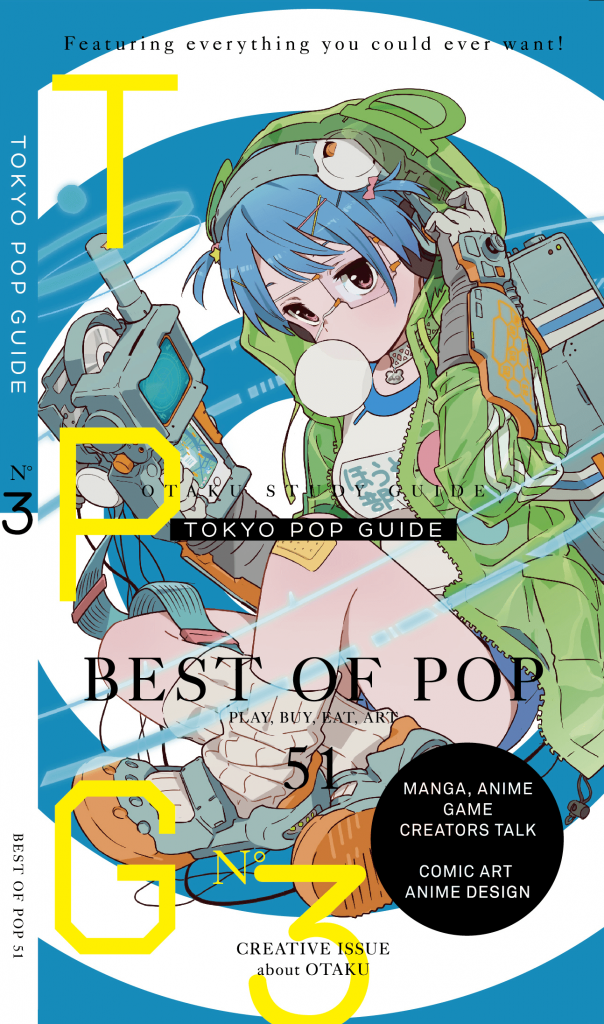 The cover illustration is created by Atsushi Nishigori 錦織敦史 the character designer and animator of "The iDOLM@STER" and the animation film director of "The iDOLM@STER Movie: Kagayaki no Mukougawa e, 劇場版『THE IDOLM@STER MOVIE 輝きの向こう側へ!』" and is also in charge of the Key Frame of Opening animation on Kimi no Na wa. (Your Name.) 『君の名は。』.
カバーイラストは今回も錦織敦史さん。錦織さんといえば、劇場版『THE IDOLM@STER MOVIE 輝きの向こう側へ!』の監督・キャラクターデザイナー・総作画監督を務め、最近では『君の名は。』のオープニング原画を手がけるなど幅広く活躍中です。
The cover design is by Tsuyoshi Kusano 草野剛 the graphic designer and art director of "Re:Zero kara Hajimeru Isekai Seikatsu ", "GANTZ:O" and "The iDOLM@STER Cinderella Girls".
カバーデザインは『Re:ゼロから始める異世界生活』、『GANTZ:O』そして、『アイドルマスター シンデレラガールズ』までアニメ・コミック・ライトノベルのグラフィックデザイン分野で日々奮闘するアートディレクターの草野剛さんが担当しています。
…このお二人の共演が見られるのは本誌だけです!
---
TOKYO POP GUIDE No.3
Date: 10th November 2016
Language: English and Japanese
Price: 400 JPY(+ TAX)
* You can reserve your copy on Amazon.com.
* 現在、Amazon.comにて予約受付中です。是非、宜しくお願い致します。