Tokyo, Japan (May 29th, 2019) – Aqours, the focal idol group from LOVE LIVE! SUNSHINE!!, have shared a video digest of live footage of their songs "Kimino Kokorowa Kagayaiterukai?" and "Thank you, FRIENDS!!" on their official YouTube channel. This is just a sneak peek of what they will be bringing to L.A.! Check out the video via the link below:
Aqours will take over The Novo in downtown Los Angeles for two performances, on July 5th and 6th, with their show titled LOVE LIVE! SUNSHINE!! Aqours World LoveLive! in LA ~BRAND NEW WAVE~!
The two concerts' Commemorative VIP Badge designs have been revealed! These badges will be presented to VIP ticket holders.
LOVE LIVE! SUNSHINE!! Aqours World LoveLive! in LA ~BRAND NEW WAVE〜
Performer: Aqours*
Event Date: July 5 and 6, 2019
Venue: The Novo
*Arisa Komiya (Dia Kurosawa in LOVE LIVE! SUNSHINE!!) has suffered an acute hives breakout that is possibly linked to a sudden allergic reaction. Although she has resumed participating in some performances, Komiya will not be appearing in this concert.
Details of the Performance
Ticket Pricing:
VIP Pit – $150
VIP Balcony – $100
GA Floor – $85
GA Balcony – $65
VIP Package includes (details subject to change):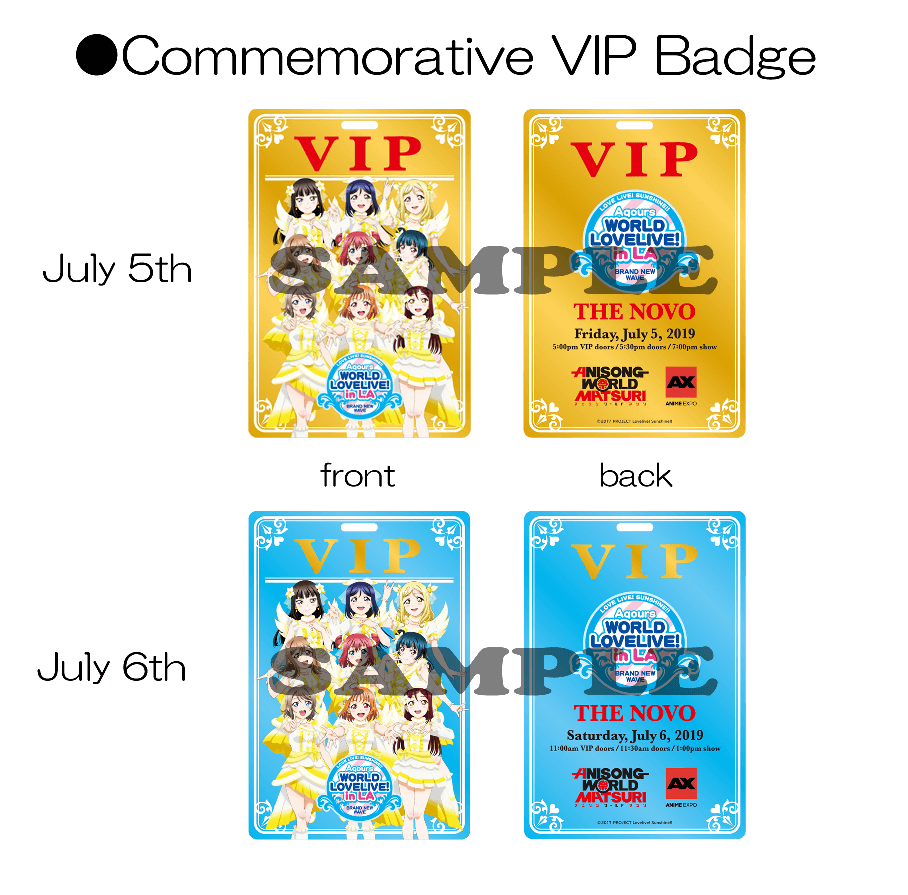 Commemorative VIP Badge
Priority entry to the concert
Special goodbye with artists after the concert
Doors/Show Time:
July 5th: 5:00pm VIP doors/5:30pm GA doors/7:00pm show
July 6th: 11:00am VIP doors/11:30am GA doors/1:00pm show
Ticket sales Dates:
Premier Fan Presale: May 28 @ 6 pm PDT
General Attendee On Sale: May 30 @ 6pm PDT
To purchase tickets for Aqours concert, please visit: https://www.showclix.com/event/ax19-aqours_brand_new_wave
To attend the concert, AX attendees will need to present both a valid AX badge and a concert ticket. All one-day and pre-show badge holders will also be able to purchase tickets to attend the concert.
About Aqours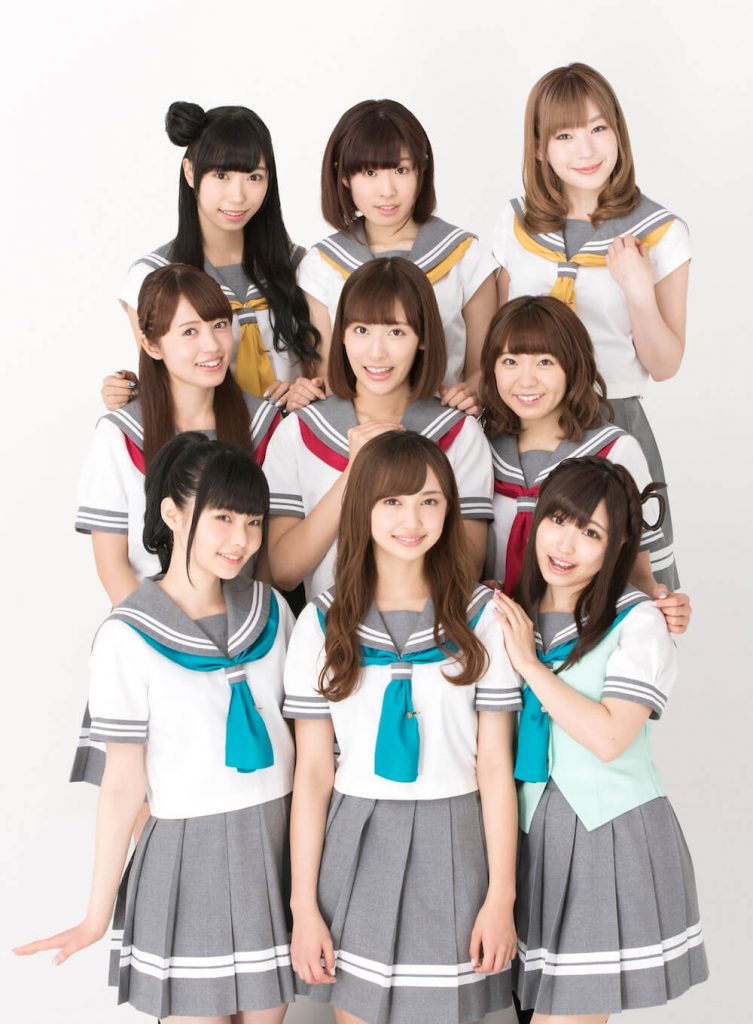 Aqours (pronounced "aqua") is the school idol group formed in Uchiura, Shizuoka, for the multimedia project "Love Live! Sunshine!!" The project started in April 2015 and spread across various media including CDs, live events, magazines, and mobile apps. The first single "Kimi no Kokoro wa Kagayaiteru kai?" was released in October 2015. Season One of the TV Anime aired during the summer of 2016 followed by Season Two during the autumn of 2017. In 2019, an anime movie was released which attracted a large audience. Aqours also actively held live performances, and on November 17, and 18, 2018, their 4th live concert was held at Tokyo Dome. They performed in front of 150,000 fans from the venue audience to the live viewings worldwide. Aqours will hold concert LOVE LIVE! SUNSHINE!! Aqours World LoveLive! in LA ~BRAND NEW WAVE~ at Anime Expo 2019!
Love Live! Sunshine!! http://lovelive-anime.jp/worldwide/
©2017 PROJECT Love Live! Sunshine!!