Hacka Doll is a news curation app to search for information about Manga Anime Games and the related contents for iOS and Google Play. The anime "Hacka Doll THE ANIMATION" has been screened on TV from October 2015 as part of "ULTRA SUPER ANIME TIME".
DeNA Co.,Ltd. is participating Comiket 89 for the promotion of Hacka Doll and the mobile game platform Mobage. There are original shoppers for free, and you can purchase various goods such as pillow cases of "Hacka Doll" 1st, 2nd and 3rd which are beautifully illustrated, 3D posters, calendars and more.
「C89限定ハッカドールセット」には先着で「お渡し会参加券」がおまけでついてますよっ!みゅー、かやたん、ななみん、うえしゃまと冬コミで待ってますっ!詳しくは特設サイトをごらんくださいーっ! #c89 #ハッカアニメ pic.twitter.com/4pLO3XoEl4

— 公式 ハッカドール@C89西4企141 (@Hackadoll) December 18, 2015
If you buy the special set surprisingly the voice actresses of Hacka Doll will directly deliver for you at the booth(this might not be carried out and it all depends on the schedule).
C89限定無料冊子「電撃ハッカドール×モバゲー」には渋谷凛ちゃんのポスターがついてきます!ブース詳細はこちらから! https://t.co/HVaC6HNtlv #C89 #imas_cg pic.twitter.com/GiaYOOYlwb

— 美少女Mobage@C89西4企141 (@Bisyojo_Mobage) December 23, 2015
Also there are limited booklets of "Dengeki Hacka Doll × Mobage" for free only if you come near by the booth. This includes the poster of Shibuya Rin from "THE IDOLM@STER CINDERELLA GIRLS".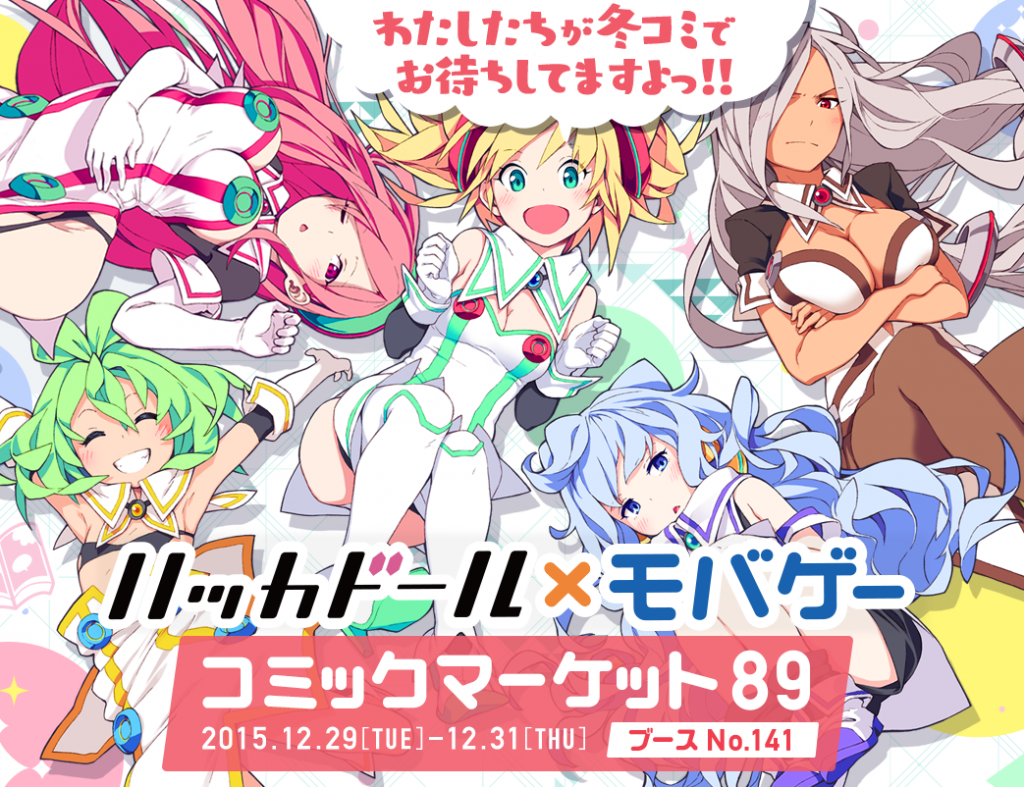 DeNA Hacka Doll × Mobage collaboration project at Comiket 89
C89 Hacka Doll × Mobage site [URL]
Hacka Doll Official site [URL]
Hacka Doll Twitter [URL]
Mobage Twitter [URL]
To know more about Tokyo Big Site and how to get there in English. [URL]
©DeNA Co.,Ltd.