Eri Ayase 絢瀬絵里 is the former president of the student council at Otonokizaka High School 音ノ木坂学院 and the last member to join μ's. She is quarter russian and lives with her sister Arisa 絢瀬亜里沙. She represents her role as a little mature and leader type person for μ's.
This beautiful costume comes from the episode 6 of the second season for the Halloween live. The figure is created by ALPHAOMEGA, the new collaborated figure brand by Alter and Megahouse.

She looks like just come out from the BD package with the impish smile and the pinched candy. Also there is the great work on the costume in the orange and black tones with pumpkin basket with a full of colorful candies.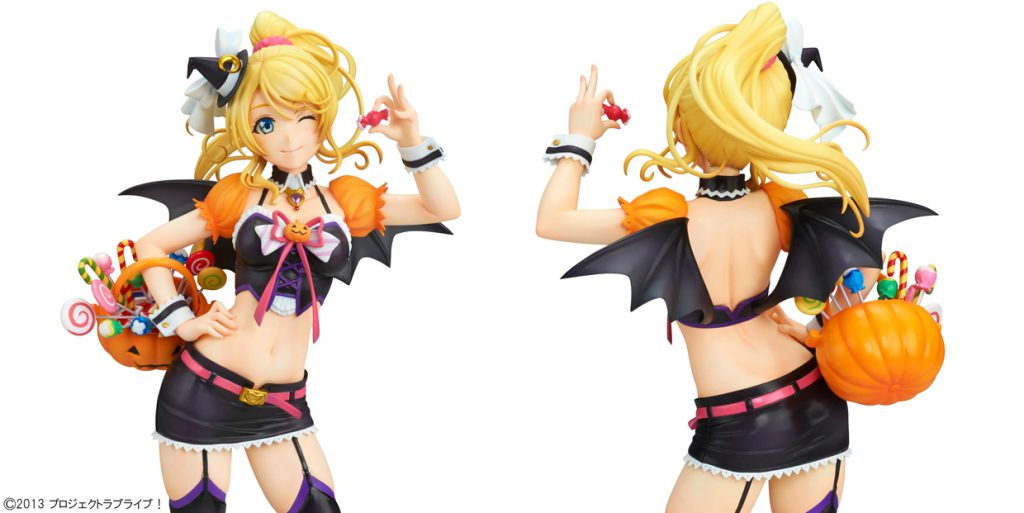 The curved body looks just perfect and healthy and it is an opportunity to invite her to your home. If you want to know more about this beautiful Erichika visit and see more in detail!
http://p-bandai.jp/item/item-1000100940/?rt=pr (Japanese only)
Product name: ALPHAOMEGA LoveLive Eri Ayase Halloween version
Price: 15,552 JPY + TAX
Size: 1/7 scale(240mm)
Material: PVC, ABS
Reservation: 5th February ~ until it reaches the number of reservations
Delivery: September 2016
[NOTICE] Purchases cannot be sent to addresses outside Japan.