A preview event for the upcoming movie and new entry in the Sound! Euphonium series, Sound! Euphonium: Oath's Finale, was held in the Asahi Hall in Yurakucho, Tokyo, on April 5.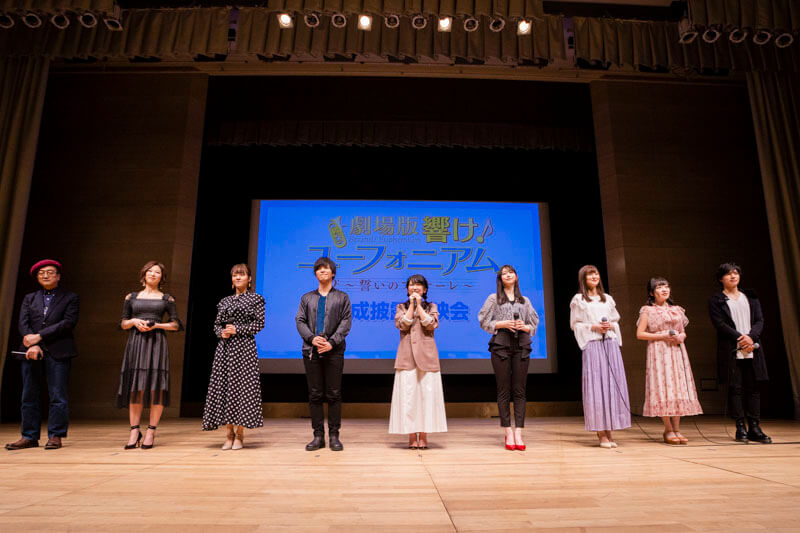 The preview was prefaced with a Q&A session with the movie's director, Tatsuya Ishihara, and voice cast, whose entrance was welcomed with thunderous applause from the fans seated in the auditorium. The lineup included Tomoyo Kurosawa (Kumiko Oumae), Chika Anzai (Reina Kousaka), Ayaka Asai (Hazuki Katou), Haruki Ishiya (Shuichi Tsukamoto), Sora Amamiya (Kanade Hisaishi), Shimba Tsuchiya (Motomu Tsukinaga), Ayaka Nanase (Mirei Suzuki), and Misaki Kuno (Satsuki Suzuki).
There was an obvious sense of camaraderie among the long-time co-performers like Kurosawa and Anzai, but the feeling is extended to the newer cast members as well in what they agreed reflected the senpai-kohai dynamics between their characters in the movie. Plenty of friendly banter was exchanged as the cast fielded questions about their roles and post-recording activities.
At the end of the Q&A event, the cast was requested to summarize what they thought is the highlight of Sound! Euphonium: Oath's Finale in a single phrase, written in large letters on panels that were then revealed to the audience. Various answers came up, ranging from phrases highlighting the sense of euphoria and accomplishment worthy of the eponymous finale in the title, to ones touting the more human side of the movie, such as the development of the relationships between various characters in the cast.
The greeting session was closed with the cast thanking the fans for their support!
Sound! Euphonium Series Summary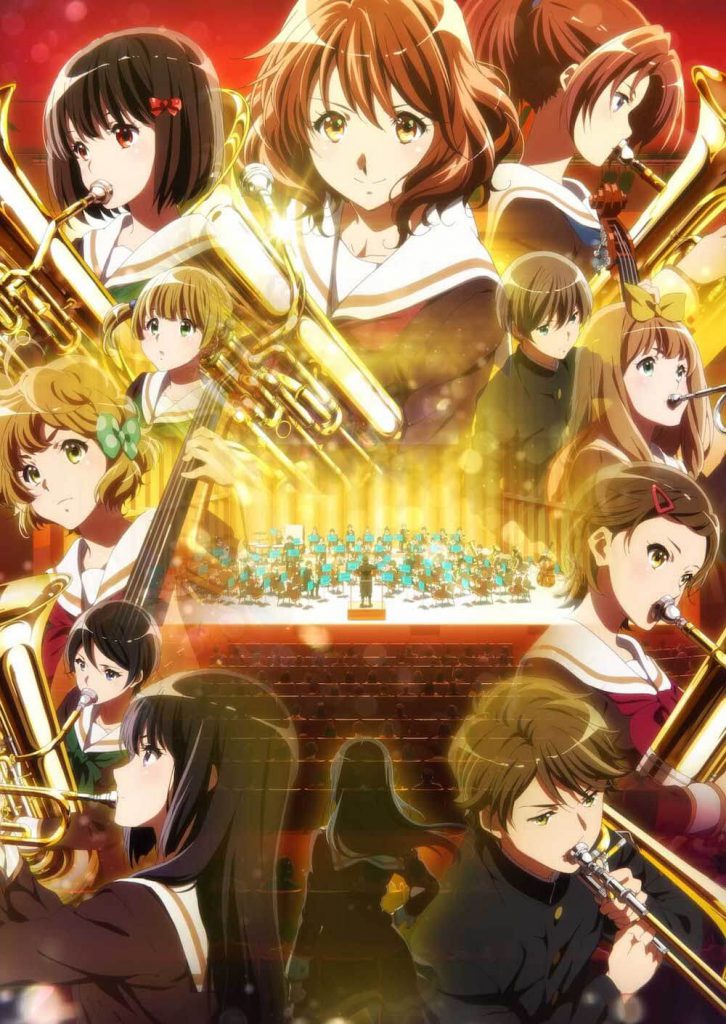 Promotion Video
Brief Information
Sound! Euphonium is a series about the adventures of the Kitauji High School Concert Band Club, a former top grade ensemble that had sunken into mediocrity in recent years. Kumiko Oumae, an experienced euphonist who is unsure about joining the band in her new school, is nevertheless roped in by her new bandmates, tubist Hazuki Katou and contrabassist Sapphire Kawashima, in addition to trumpeter Reina Kousaka, an ex-bandmate of hers with whom she had a rocky parting in middle school. Under the strict guidance of their new club advisor, Noboru Taki, the club clambers to get back onto its feet, aiming to qualify for the national band competition and regain their previous glory as one of Japan's top concert bands.
Cast
Kumiko Oumae: Tomoyo Kurosawa
Hazuki Katou: Ayaka Asai
Sapphire Kawashima: Moe Toyota
Reina Kousaka: Chika Anzai
Shuuichi Tsukamoto:Haruki Ishiya
Natsuki Nakagawa: Konomi Fujimura
Yuko Yoshikawa: Yuri Yamaoka
Takuya Goto: Kenjiro Tsuda
Riko Nagase: Miyuki Kobori
Sora Amamiya: Kanade Hisaishi
Mirei Suzuki:Ayaka Nanase
Satsuki Suzuki:Kuno Misaki
Motomu Tsukinaga:Shinba Tsuchiya
Asuka Tanaka:Minako Kotobuki
Noboru Taki: Takahiro Sakurai
Official Site: http://www.anime-eupho.com/
©武田綾乃・宝島社/『響け!』製作委員会