As announced by Three∞Loop in their recent YouTube livestream, "Shuwa Shuwa", the ending theme of the TV anime Slow Loop, will be released as a single on February 23, 2022. Slow Loop will begin airing on Japanese TV on January 7, 2022.
Three∞Loop to Release Slow Loop ED "Shuwa Shuwa" on February 23
Slow Loop ED "Shuwa Shuwa"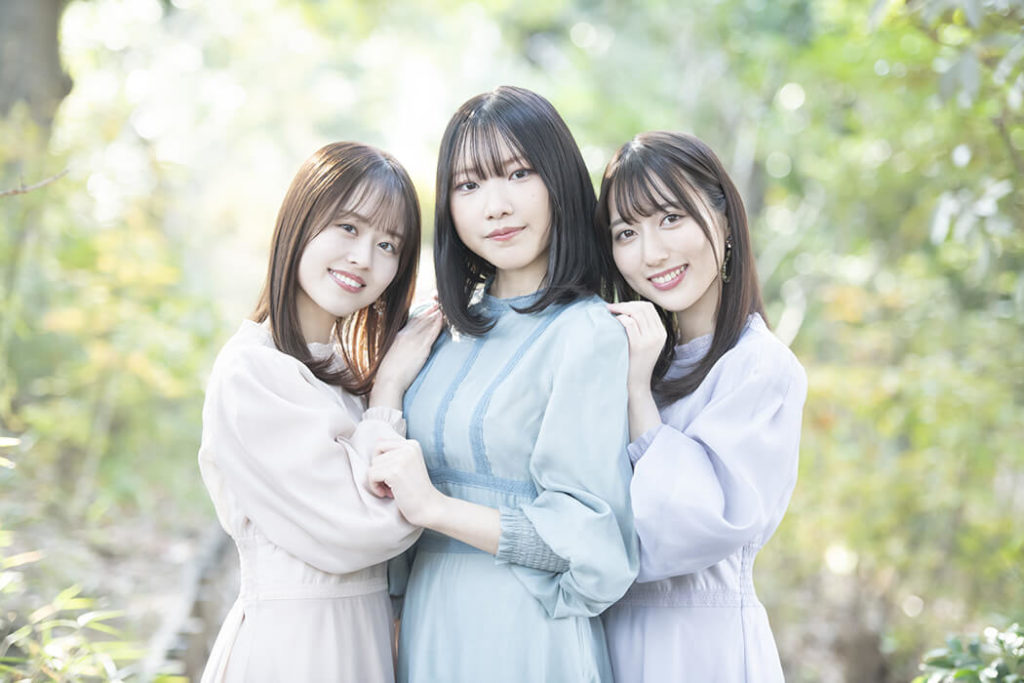 Three∞Loop is a group consisting of the main voice actresses of Slow Loop: Rin Kusumi (playing Hiyori Minagi), Natsumi Hioka (playing Koharu Minagi), and Tomomi Mineuchi (playing Koi Yoshinaga).
Product information
Title: Shuwa Shuwa, ending theme of TV anime Slow Loop
Artist: Three∞Loop
Release date: February 23, 2022
Formats: Limited first edition (2 CDs)
VTZL-197 / ¥2,750 (inc. tax) 4582575 38569 1
Regular edition (1 CD)
VTCL-35339 / ¥1,320 (inc. tax) 4582575 38570 7
Both editions will feature original anime cover illustrations
Tracks(Limited first edition & regular edition)
Shuwa Shuwa
Yuru Yurariru
Shuwa Shuwa (instrumental)
Yuru Yurariru (instrumental)
Shuwa Shuwa (TV version)
Limited first edition bonus CD
Slow Loop soundtrack (over 30 songs planned)
Composition and arrangement by Takuro Iga
Profiles
Rin Kusumi
Date of birth: June 17
Place of birth: Gunma Prefecture
Hobbies: Karaoke
Anime performances:
Love Live! Superstar!!
Fruits Basket
Aikatsu on Parade!
Natsumi Hioka
Date of birth: July 15
Place of birth: Hokkaido
Special skills: Piano, dance
Hobbies: Drawing yurui pictures, reading manga, playing with her dog
Anime performances:
The Vampire Dies in No Time
Super Cub
High School Prodigies Have It Easy Even in Another World
Tomomi Mineuchi
Date of birth: December 22
Place of birth: Tokyo
Hobbies: Art
Anime performances:
Miss Kobayashi's Dragon Maid
SCARLET NEXUS
Is the Order a Rabbit?
The third character information has been released!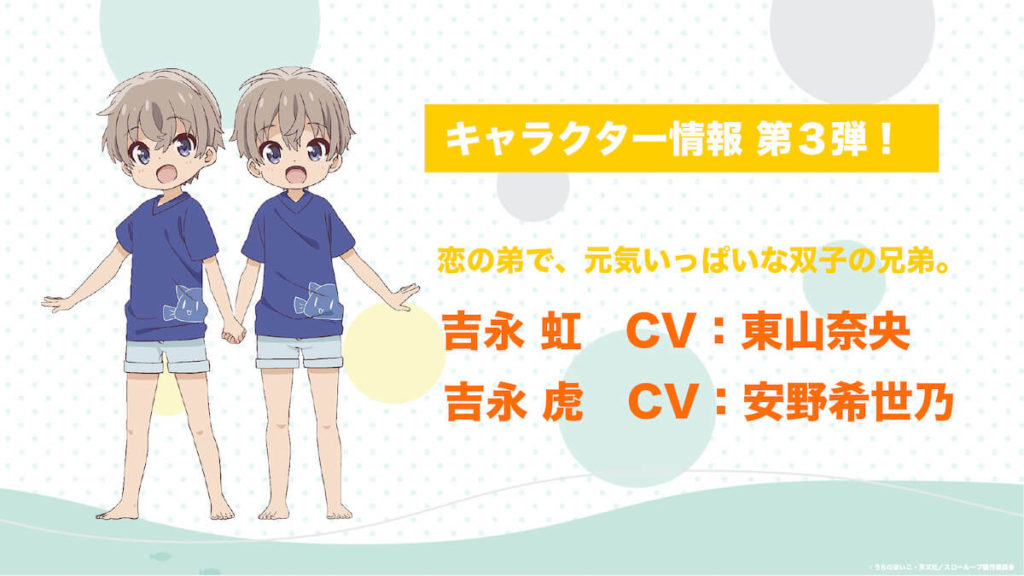 The third character information for the TV anime "Slow Loop" has been released! The younger brother of Niji Yoshinaga, the twin boys who are full of energy. Nao Touyama will be playing Niji Yoshinaga, and Kiyono Yasuno will be playing Tora Yoshinaga! The two who sing the OP theme as Poka Poka Aeon will also appear as twin brothers in the main anime!
アニメ『スローループ』概要
INTRODUCTION
海辺でひとり、亡き父に教えてもらったフライフィッシング を嗜む少女・ひより。いつもどおりに釣りをしていると、いきなり海に入ろうとす る天真爛漫な少女・小春と出会います。一緒に釣りをする事になった2人でしたが、実は親の再婚相 手の娘どうしで…?
ひょんな出会いから「姉妹」になったひよりと小春と一緒に、 「釣り」をしながらスローに過ごしてみませんか?
放送情報
AT-X1月7日より毎週金曜日22:00〜(リピート放送:毎週(火)10:00〜/毎週(木)16:00〜)
TOKYOMX1月7日より毎週金曜日22:30〜
サンテレビKBS京都テレビ愛知BS11
配信情報
dアニメストアにて地上波同時・単独最速配信決定!
dアニメストア1月7日より毎週金曜日22:30〜その他サイトも順次配信予定
1月7日より毎週金曜日24:00〜1月7日より毎週金曜日24:00〜
1月7日より毎週金曜日27:05〜1月7日より毎週金曜日23:00〜
スタッフ
原作:うちのまいこ(まんがタイムきららフォワード/芳文社)
監督:秋田谷典昭
副監督:守田芸成
シリーズ構成:山田由香
キャラクターデザイン・総作画監督:滝本祥子
釣りシーン演出:柴田匠
料理・エフェクト作監:鷲北恭太
美術監督:諸熊倫子(スタジオ天神)
色彩設計:月野えりか
撮影監督:佐藤敦(スタジオシャムロック)
3D監督:濱村敏郎(ワイヤード)
編集:仙土真希(REAL-T)
音響監督:土屋雅紀
音楽:伊賀拓郎
音楽制作:フライングドッグ
アニメーション制作:CONNECT
製作:スローループ製作委員会
キャスト
海凪ひより(CV:久住琳)
海凪小春(CV:日岡なつみ)
吉永恋(CV:嶺内ともみ)
原作コミックス
著:うちのまいこ
「まんがタイムきららフォワード」 (毎月24日発売)にて好評連載中!
単行本 第1巻〜第4巻 好評発売中!
「まんがタイムきららフォワード」公式サイト http://www.dokidokivisual.com/magazine/forward/
アニメ公式サイト https://slowlooptv.com/
アニメ公式Twitter @slowloop_tv
© Maiko Uchino・Houbunsha/SLOWLOOP PARTNERS