On Saturday, Mar. 21, the 23rd episode (the 86th episode overall) of the 4th season of the TV anime "My Hero Academia" called "Let It Flow! School Festival" has been broadcast, and the stage performance by the class 1-A of UA Academy Hero Hero Course brought the "School Festival Arc" to its climax.
The episode depicted the students from the class 1-A including the protagonist Midoriya Izuku (Deku) playing band and dancing on the stage. They do it to make all the students from UA Academy, who are feeling stressed from continuing cases caused by the Villains, and Eri, the little girl who does not know how to smile, happy.
The arc is popular among the episodes of the original manga "My Hero Academia", and the episode was finally made into the anime with a high expectation from the fans. The special music video was released with the broadcast of the episode, mainly using the scenes from the episode.
Chrissy Costanza sings with a passion! "My Hero Academia" 4th season special music video "Hero too" was released!
"My Hero Academia" 4th season special music video "Hero too"
The anime production team created the original song called "Hero too" for the school festival performance scenes. Hayashi Yuuki, who creates music of the main episodes of "My Hero Academia", created music for "Hero too".
The lyrics were written by Ayapeta, who is the vocalist and guitarist from the rock band, Dizzy Sunfist. The singer is Chrissy Constanza, who is the vocalist from the United States rock band called "Against the Current", and performs an extensive voice as Jiro Kyoka, who is the vocalist of the class 1-A band.
The dance performance is nimble and strong in the movements like a hero, with pop-rock tune music on its melody. The anime studio bones inc., made the band and dance performance by the heroes unique to any other animations.
"Hero too" will be recorded in the original soundtrack of the TV anime "My Hero Academia" 4th season, which will be released on Saturday, Mar. 25, and it will be released on the internet on the same day.
"My Hero Academia" 4th season special "Hero too" Outline
Vocal:Jiro Kyoka Starring Chrissy Costanza
Lyrics:Ayapeta(from Dizzy Sunfist)
Song:Yuki Hayashi
Dance:Furitsuke Kagyo air:man
Chrissy Costanza tweeted on the same morning…
Please watch "Hero too" over and over again!!!
"My Hero Academia" 4th season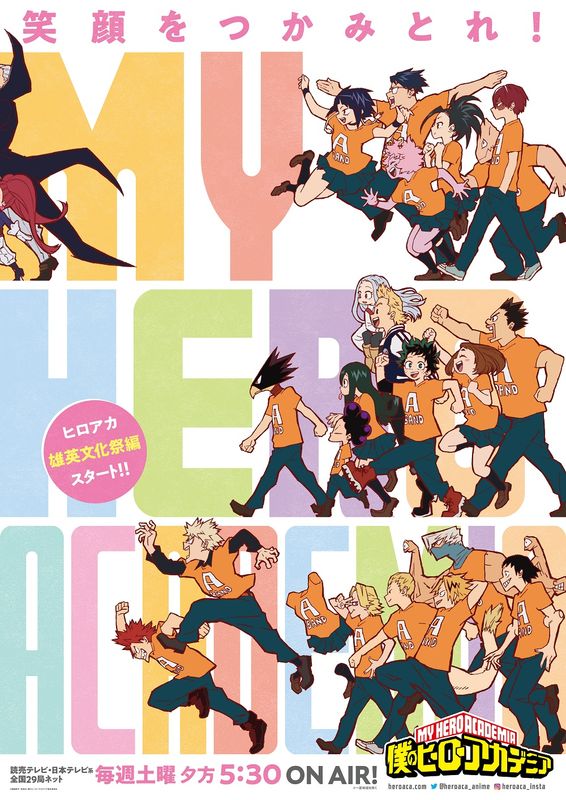 Official Site http://heroaca.com/
Official Twitter http://twitter.com/heroaca_anime
© 堀越耕平/集英社・僕のヒーローアカデミア製作委員会