Project LoveLive! has started in 2010, and the first ever single "僕らのLIVE 君とのLIFE" was released at Comic Market in the summer of 2010. There are more than 100 songs were released since then including the rare sources from the special edition of CD or DVD.
But how come their music is so popular? is it because it's got the story based on the school-life, simple mission, 9 characteristics, dance performance and music that emphasizes the story?
LoveLive! is the combination of both fictional and nonfictional story of success about 9 school girls and 9 voice actresses, and it is more than just anime or traditional J-pop music.
Also Aki Hata 畑亜貴, one of the most respected anime and game singer song writer who wrote all of the songs, definitely makes you synchronized with the story.
Here, we would like to introduce 10 songs that make you moved along with the scenario from the 1st season.
10 Best Songs From Love Live! School Idol Project ~ 1st season
1. START:DASH!! featuring Honoka, Kotori and Umi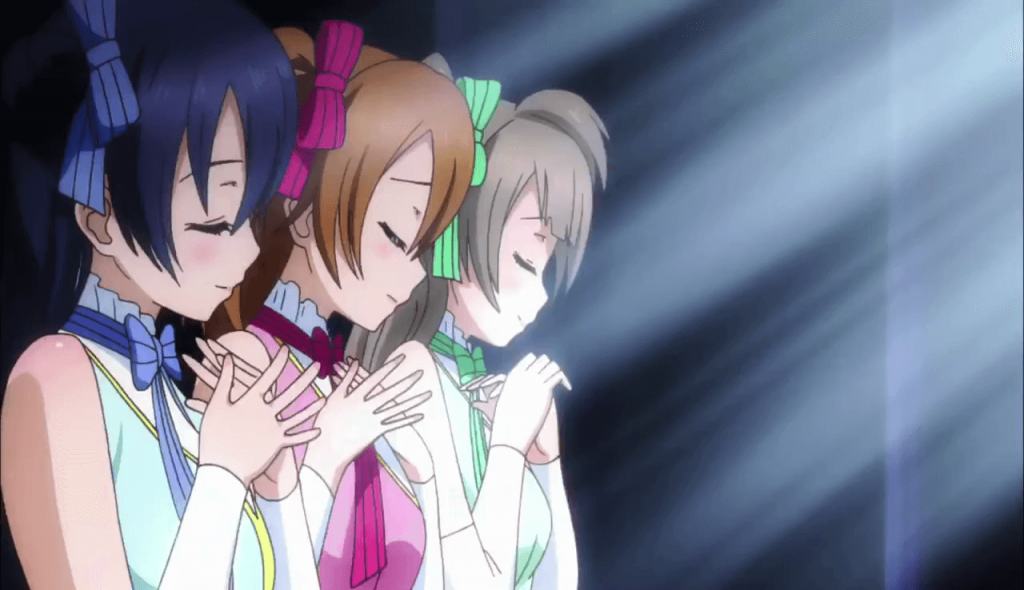 "START:DASH!!" is the first song performed on live by Honoka Kosaka, 高坂穂乃果, Kotori Minami, 南ことり and Umi Sonoda, 園田海未 at the auditorium, and the song is written by Maki Nishikino, 西木野真姫 on piano for the first time. The place was empty when they performed, but Honoka declared that she will make this place full.
2. Korekara no Someday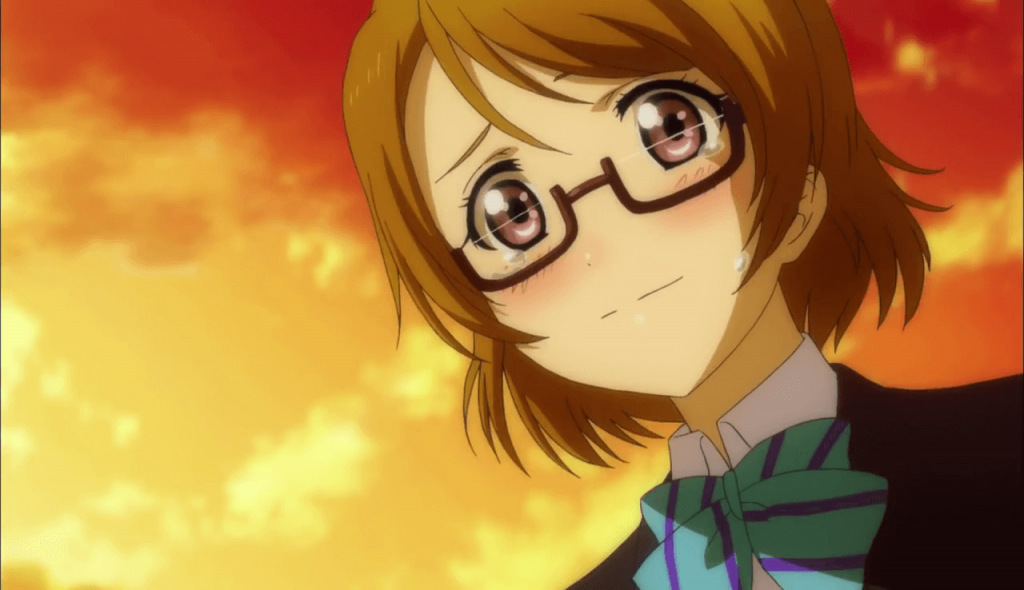 The group got the name and 4 more members have joined who are Hanayo Koizumi, 小泉花陽, Rin Hoshizora, 星空凛 and Maki Nishikino, 西木野真姫 and Nico Yazawa 矢澤にこ. "これからのSomeday" is the only song performed without Eli Ayase, 絢瀬絵里 and Nozomi Tojo, 東條希.
3. Bokura no LIVE Kimi to no LIFE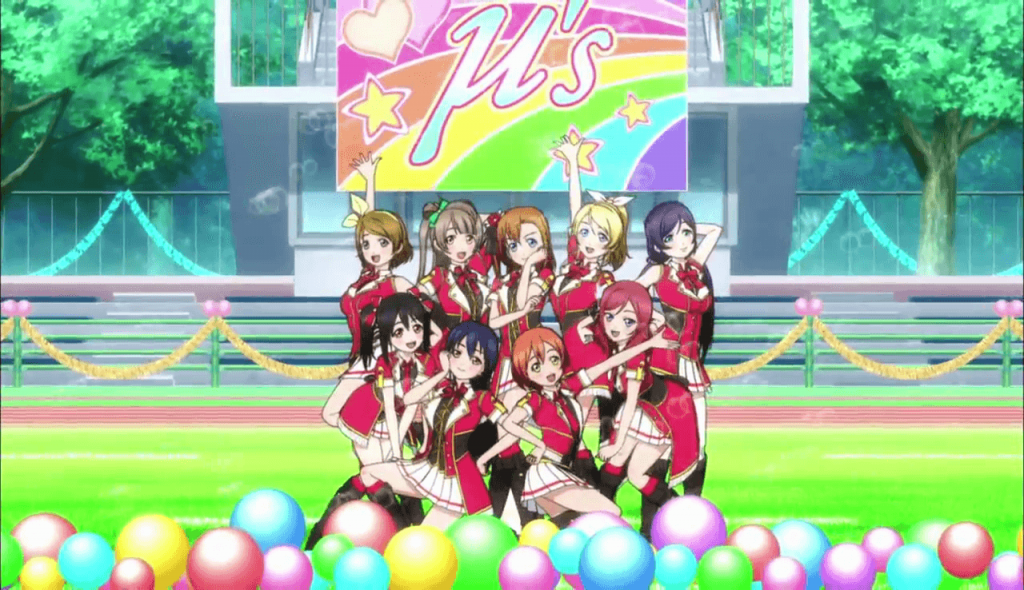 The principal of Otonokizaka explained to Eli that it's impossible to open school and recruit student from the next year, but she and Nozomi joined μ's eventually and performed a successful live at the open campus.
"僕らのLIVE 君とのLIFE" is the first released CD from μ's and this is the moment of when μ's become 9 on TV.
4. No brand girls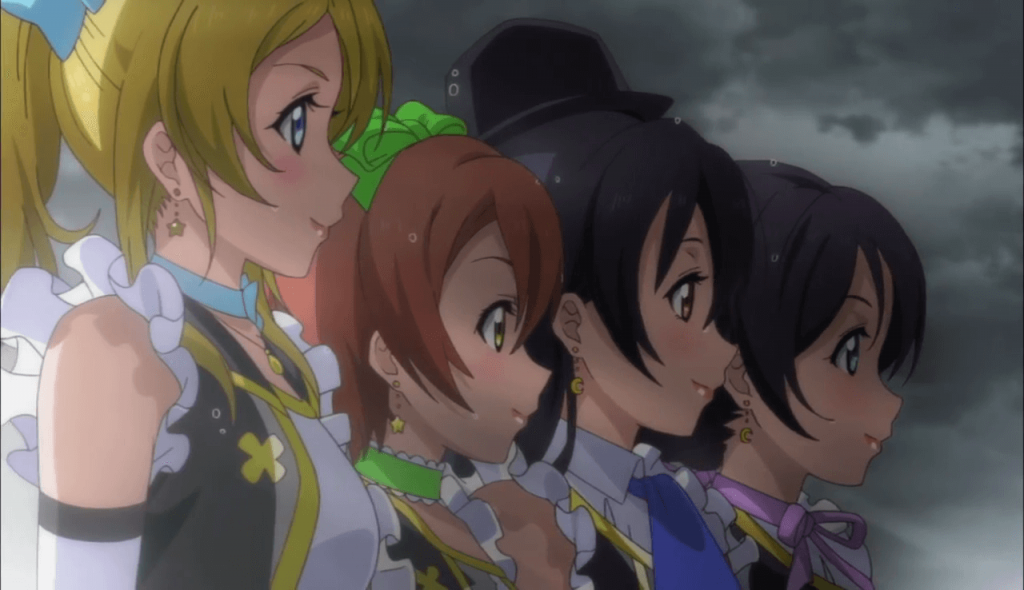 With the successful result of open campus Otonokizaka has avoided from closing the school, besides the rank of Lovelive! rose up to 19th within the participation rights.
"No brand girls" is the performance for school festival and everything seemed look perfect until when Honoka pushed herself too much on training, and something starts to collapse.
5. Susume→Tomorrow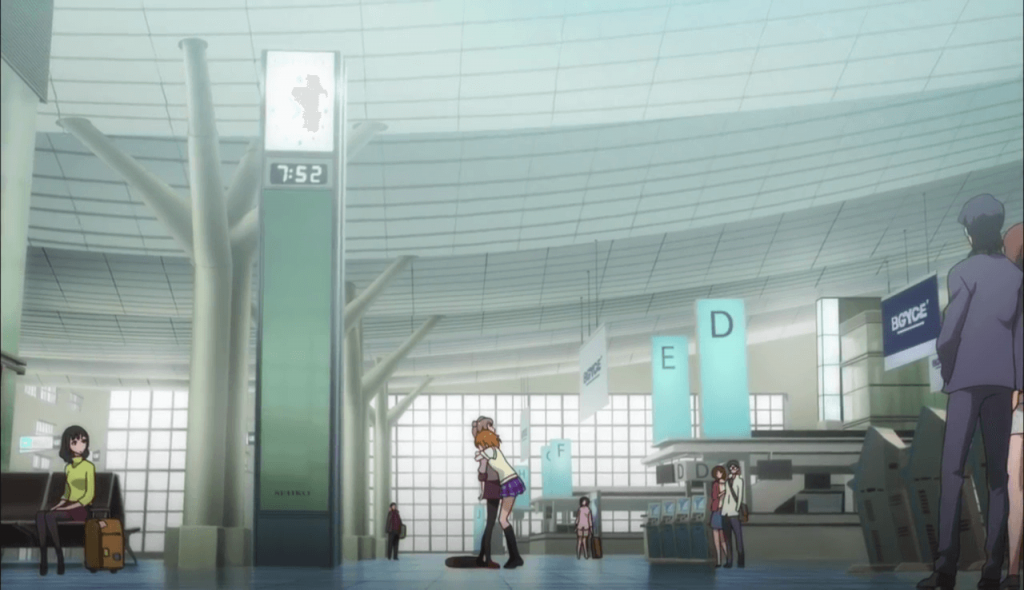 So much trouble caused to μ's as Honoka fell down from being ill after the performance of "No brand girls". Eli suggested not to participate on LoveLive! and Honoka quit being a school-idol as she took her responsibility. Kotori decided to study abroad, and when μ's almost has to break up Honoka managed to fix after all.
6. START:DASH!!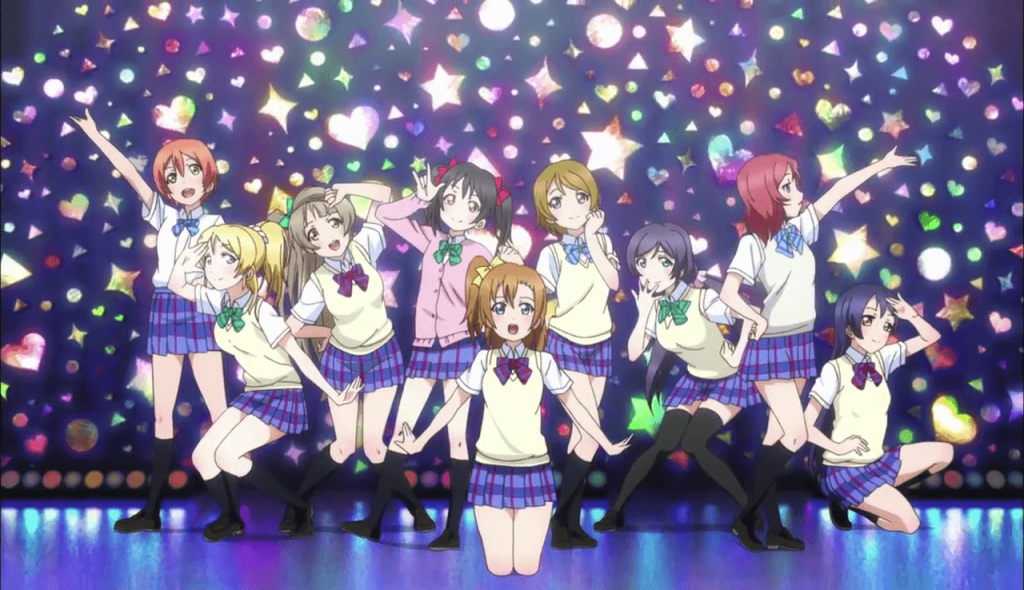 Honoka made the auditorium full of audience as she declared when she, Kotori and Umi performed the same song. μ's could not participate LoveLive! but the story continued to the 2nd season.
7. Aishiteru Banzai!
Maki played and sang this song alone in the piano room in the 1st episode when Honoka accidentally came into to the room. This song is played in the last episode of the 2nd season for the graduation of Eli, Nozomi and Nico.
8. Kitto Seishun ga Kikoeru
"きっと青春が聞こえる" is the ending theme of the 1st season and key members of each episodes sing through it.
9. Wonder zone
"Wonder zone" is represented Akihabara as special place and is written by Kotori as Minarinsuki the famous maid at Cure Maid Cafe.
10. Bokura wa Ima no Naka de
It's the opening theme of the 1st season. The members of μ's mentioned that they did not expect to really dance and sing on the stage just like anime and they also had to train hard to complete all the moves. Also this song got the popular Choreography when it goes "それぞれが好〜きなことで頑張れるなら".
---
I know it's still difficult to understand how LoveLive! becomes such trendy content yet but to experience it you are always able to watch the whole season. Also the official tunes are available at most of the digital music stores, and you should give a try if you haven't listened to any of it.
Here is "Takes 30 minutes to understand about LoveLive! the 1st season.".
* All above screenshots are taken from this clip and is only meant to explain about this review.
Let's also check our column on MyAnimeList HERE.
© 2013 プロジェクトラブライブ!©Lantis, All Rights Reserved.