Preview scenes from episode 11 of Hisone to Maso-tan, "Montparnasse sky and scum girl", set to air on Tokyo MX and other stations at 24:00 on June 21st, have been revealed.
Episode11. Montparnasse sky and scum girl
"Ritual" has now started. "Mizuchi Rock", the uninhabited island where dragon pilots did the training, turns out to be sleeping "Mitatsu". He arises from sleep and is now moving to the next place to rest with concealing himself in developed cumulonimbus clouds.
Under the rough weather, four OTFs break their backs to lead him safely. "What is Hisone doing now?" She is not here, for the mission which affects the fate of this nation.
Anime "Hisone to Maso-tan" Outline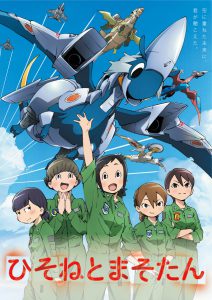 Introduction
Japan's top creators have assembled here for the dream project of BONES! Shinji Higuchi, who achieved a great success for "Sin Godzilla", gathers the threads of original story with Mari Okada, a very well-known script writer for "Anohana: The Flower We Saw That Day".
Director Hiroshi Kobayashi of "Kizaniver" gives life to the heartwarming story of dragons tamed by Air Self-Defence Force and their rookie pilots filled with love, laughter and tears.
On top of it, the character designer Toshinao Aoki and the composer Taisei Iwasaki of "Blood Blockade Battlefront" boost the project!
Story
Straightforward and innocent Hisone Amakasu is a rookie self-defense official.
She was struggling with the fact that she sometimes hurts people unintentionally by her innocent words and decided to join in Air Self-Defence,
hoping to maintain a certain distance from people. This decision led her to a fateful encounter which profoundly changes her life.
It was the dragon hidden in the base and it chose Hisone as his pilot. When it soared into the sky with Hisone, her fate as a dragon pilot was decided.
It is said that dragons have a key to the future of the world…
Official Site http://hisomaso.com/
(C)BONES・樋口真嗣・岡田麿里/「ひそねとまそたん」飛実団