Studio Bones 20th anniversary x FlyingDog 10th anniversary series CAROLE & TUESDAY is a groundbreaking musical anime featuring direction by Shinichiro Watanabe, original character designs by Eisaku Kubonouchi, and music by a team of highly acclaimed composers and musicians.
On August 30 (Fri), the first cour of CAROLE & TUESDAY was released worldwide on Netflix. As of this large-scale release, episodes 1 to 12 are available in 190 countries and regions, with subtitles in 28 languages and dubs in 7 languages.
With a large percentage of the viewership on promotional videos coming from outside of Japan, the worldwide release of this highly anticipated anime is surely a day that overseas fans have been waiting for. The soundtrack for the first cour is already on sale overseas, and we anticipate that CAROLE & TUESDAY will continue to go from strength to strength.
Netflix Release Information
Release date: August 30, 2019 (U.S. time)
Episodes: 1 – 12
Languages:Subtitles (28): Arabic, Chinese: Traditional, Chinese: Simplified, Danish, Dutch, English, Finnish, French, German, Italian, Korean, Norwegian, Brazilian Portuguese, Portuguese, Spanish, Castilian Spanish, Swedish, Polish, Turkish, Vietnamese, Thai, Hebrew, Romanian, Greek, Indonesian, Russian, Czech, Hungarian.
Dubs (7): English, French, German, Italian, Brazilian Portuguese, Spanish, Castilian Spanish
Music streaming services: Apple Music, Spotify, YouTube Music
Fanart Contest Information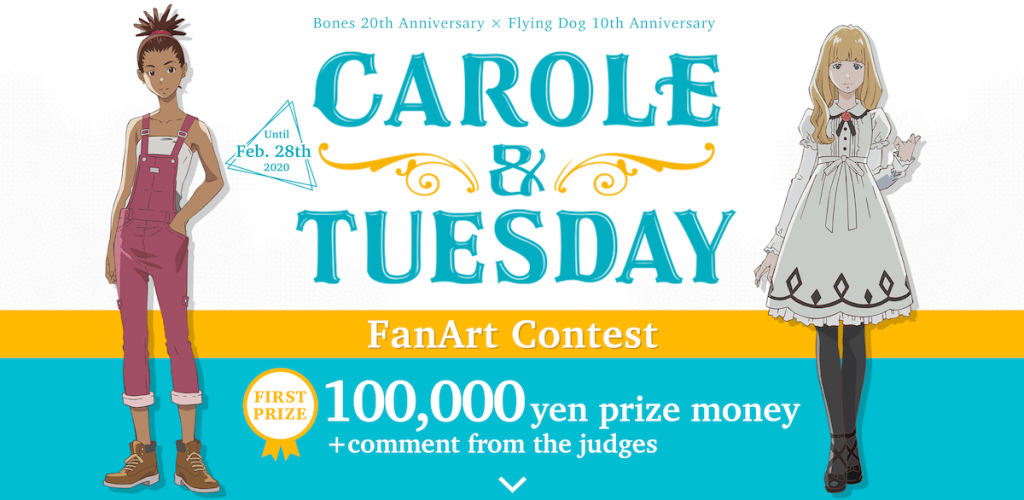 We are launching a worldwide fanart contest in collaboration with MediBang, Inc., a company that supports creators all over the world through Medibang Paint, a digital painting and comic creation program with over 31 million downloads and 10 million registered members, and Art street, a social media and submission site devoted to fans of manga and illustration.
Fanart of any character that appears in the anime CAROLE & TUESDAY is acceptable. We accept submissions in Japanese, English, Spanish, Korean, and Chinese (simplified and traditional).
Please see the following contest page for more details:
https://medibang.com/contest/caroleandtuesday/
Official Website: http://caroleandtuesday.com/?lang=en
Twitter:@carole_tuesday
(C) BONES, Shinichiro Watanabe/Project CAROLE & TUESDA