It is decided to implement a new cast quiz of TV Anime "Slow Start" started broadcasting from January 2018.
"Slow Start" Illustration quiz drawn by the author Yumiko Tokui!
Make your guess who will be the next casts by the special illustration quiz on Niconico Live on the 24th.
The three more casts which wii be announced at Niconico Live on November 24 from 21:00, and the author Yuiko Tokumi drew their portraits of the voice actresses and you can make guess before the announcement.
The special poster will be given away to 20 people by lottery out of those who answered the right names!
Quiz is on the following URL!
http://slow-start.com/campaign/
The special program
TV anime "Slow Start" ~ Additional casts will be announcement!
24th November 21:00~
About "Slow Start"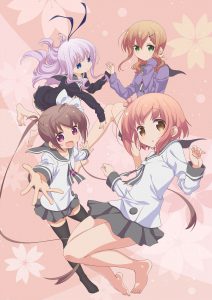 Happiness begins slowly…
TV animation "Slow Start" broadcasting in January 2018!
Original comic "Slow Start (published by Houbunshya)" Volume 1 to 4 Now on sale!
Official Site http://slow-start.com/
Official Twitter https://twitter.com/slosta_anime