Since releasing it in March 2017, "BanG Dream! Girls Band Party!" became such a big hit rhythm game exceeding over 4.5 million users. The five bands including "Poppin'Party" appear in the game with the original songs and band covers from the famous J-Pop and Anime songs.
So JMAG NEWS conducted questionnaires for 100 overseas fans and checked the popular songs for each band!
---
In this article, we introduce top 10 songs from original & cover songs performed by Poppin'Party! This includes rank by equal percentage.
※ The following is the result of questionnaires conducted by our site. It is not aiming any expression or publicity by the official.
No.5 "1000-kai Urunda Sora"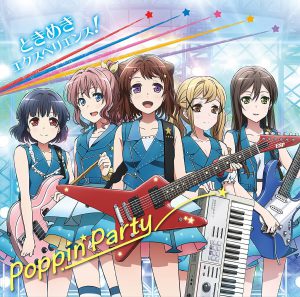 "1000 – kai Urunda Sora" is the coupling song of the theme song "Tokimeki Experience" from TV anime "BanG Dream!" Broadcasted in 2017. It was the first song released at the time of the encore at "BanG Dream! Second ☆ LIVE Starrin 'PARTY 2016!" Held in November 2017.
No.5 "Senbonzakura" by Hatsune Miku
"Senbonzakura" created by "Kurousa" who made the most hit in vocaloid history in 2012.
No.4 "Tokimeki Experience!"
"Tokimeki Experience!" is the theme song for TV anime "BanG Dream!". If you Speak of "BanG Dream!" this song should be the most representative song! If you have never listend to the live version, you can watch the full MV when Popipa perfomed at Nippon Budokan!
No.4 "Teardrops"
"Teardrops" is a coupling song of Popipa's 3rd single "Hashiri Hajimeta Bakari no Kimi ni". The riffs of the intro played by Tae Hanazono is cool anyway!
No.4 "Time Lapse"
Popipa's 7th single "Time Lapse" released in September 2017 as It became a topic as a luxurious single CD. This album has full of feelings of all the members running towards the big goal of Nippon Budokan.
No.4 "Natsunodon!"
The coupling song "Natsunodon!" is recorded within "Time Lapse". It is a song that is perfectly suited for summer as the impact of the title. Some fans said that It is highly addictive!
No.4 "Tentai Kansoku" by BUMP OF CHICKEN
BUMP OF CHICKEN "Tentai Kansoku". A song recorded in the 3rd album of BUMP OF CHICKEN released in 2002. The cover version by Popipa appeared in the game event "Hoshi wo Sagashini" and became a topic.
No.3 "Mae e Susume!"
Popipa's 6th single "Mae e Susume!" is like a song that expresses such a girls band. Even now I can not forget the tension until the beginning of the performance of this song which appeared in the episode 12 "Kirakira Shichatta!"
No.2 "STAR BEAT! Hoshi no Kodou"
Popipa's 2nd single "STAR BEAT! Hoshi no Kodou" ranked second! It was popular since the release. It is not an overstatement to say that this is Popipa's presense. The above MV was released as full version and you should check it by all means.
No.1 "Hachigatsu no if"
No.1 is the coupling song "Hachigatsu no if" from 7th single "Time Lapse". Twin vocals by Kasumi and Saaya are very impressive and it has being performed in the completely new episode "Asonjyata". As voice actresses Aimi and Ayaka Ohashi sung this song together for the first time.
In addition, there are "Natsuiro SUN! SUN! SEVEN!", "Yes! BanG_Dream!", "You just started running", "Kira Kira datoka Yume datoka Sing Girls", "BOF" and "CiRCLING" were listed.
Also, "Hanazono denki Guitar!!!" sung by Tae Hanazono, "Su, Suki nankajyanai!" Sung by Arisa Ichigaya and Glitter * Green 's "Do not be afraid" recorded in "Original Soundtrack" are ranked in.
So how was it? It's surprising to see that 3 songs are chosen from "Time Lapse"! Did you find your favorites? Please give your opinion to the comment column at the bottom of this blog by all means!
And only for your reference …
Finally, here is a result of character popularity poll voted by the fans. Among overseas fans, dark long hair & guitar's Otae seems to be very popular.
No.1 Tae Hanazono
No.2 Saaya Yamabuki
No.3 Kasumi Toyama
No.4 Arisa Ichigaya
No.5 Rimi Ushigome
"BanG Dream! Girls Band Party! "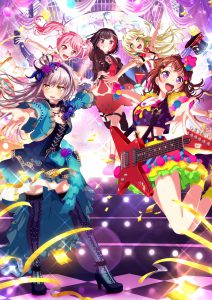 ©BanG Dream! Project ©Craft Egg Inc. ©bushiroad All Rights Reserved.