Roselia 1st album "Anfang" finally decided to release on 2nd May! Referring to the official information, this 1st album includes singles from 1st to 5th with 2 brand new songs so far, plus 1st & 2nd live movie will be contained in the production limited edition.
---
So JMAG NEWS conducted questionnaires for 100 overseas fans and checked the popular songs for each band! In this article, we introduce top 10 songs from original & cover songs performed by Roselia. This includes rank by equal percentage.
※ The following is the result of questionnaires conducted by our site. It is not aiming any expression or publicity by the official.
No.9 "-HEROIC ADVENT-"
The coupling song "- HEROIC ADVENT -" recorded in Roselia 3rd single "Netsuiro Starmine" was chosen as No.9. This song is used as an ED theme song of TV animation "Cardfight !! Vanguard G: Z".
No.8 "Opera of the wasteland"
Roselia 5th single "Opera of the wasteland" is theme song of the event "Neo Fantasy Online – departure". In this story, with the proposal of Ako Udagawa and Rinko Shirokane, all the members of Roselia cooperate and play this particular game at the Internet cafe.
No.7 A Cruel Angel's Thesis by Yoko Takahashi
"A Cruel Angel's Thesis" from TV anime "Neon Genesis Evangelion" is chosen as No.7, and is the immovable animation song everyone knows.
6位「Everlasting Guilty Crown」EGOIST
No. 6 was the 2nd single of EGOIST, TV anime "Guilty Crown" Kouki opening theme "Everlasting Guilty Crown"
5位「ONENESS」
Roselia 4th single "ONENESS" is a song that was emotionally created by the music creator team Elements Garden. This song shows "Roselia" as to be grown up out of "BanG Dream! Girls Band Party!".
No.4 "Re:birth day"
"Re: birth day" is the 2nd single and is reputed as masterpiece. This song has achieved weekly ranking No. 9.
No.4 "Netsuiro Starmine"
No.4 is the 3rd single "Netsuiro Starmine" which won the Daily Ranking No.3 for the first time. Also at "Roselia's 1st Live Performance" held in July 2017, the Ariake Coliseum was packed with 7,000 audiences and first participated in "Animelo Summer Live 2017 THE CARD" held in the Saitama Super Arena in August.
No.3 "Hidamari Rhodonite"
"Hidamari Rhodonite" is so popular as a coupling song from 2nd single "Re: birth day". Distribution started with the Roselia event "Do not leave me, Lisa !!!!". It is the song that makes you feel Lisa's feelings for Yukina…
No.2 "Determination Symphony"
"Determination Symphony" from 4th single "ONENESS" is chosen as No.2. This song was delivered at the Roselia event "Akishigure ni Kasa wo". The event was an impressive story of elder sister Sayo Hikawa and younger sister Hina Hikawa belonging to Pastel Palettes.
No.1 "LOUDER"
The coupling song "LOUDER" from1st single "BLACK SHOUT" was chosen as NO.1!! It could be the most important song that appeared in the story of Roselia, which was completed for the first time in the event "Omoi Tsunagu Mikansei na Uta".
Immediately after the release, fans said like "Riffs are good!", "Notes are interesting!" and "Lively and exciting!" and the hearts of music fans caught as well.
And only for your reference …
Finally, here is a result of character popularity poll voted by the fans and everyone was almost the same number votes.
1位 Sayo Hikawa & Lisa Imai
2位 Yukina Minato
3位 Rinko Shirokane
4位 Ako Udagawa
『BanG Dream! Girls Band Party! 』TOP 10 songs of Poppin'Party as voted by 100 fans!
"BanG Dream! Girls Band Party! "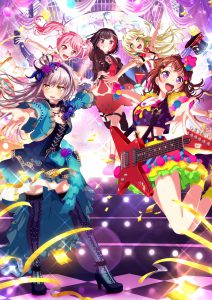 ©BanG Dream! Project ©Craft Egg Inc. ©bushiroad All Rights Reserved.