From the OVA series "FLCL" as the movie adaptation, the latest PV and the new visual are released.
"FLCL" latest PV and visual!
The official title and release date of the movie.
This time, the official title of The movie "FLCL" and release date are announced.
The movie 'FLCL Alterna' will be on September 7, 2018 (Friday)
The movie "FLCL Progre" will be on September 28, 2018 (Friday).
the pillows sings! The latest PV & Visual with 2 theme songs
The pillows theme song "Star overhead" "spiky seeds"
2 movies & 2 images!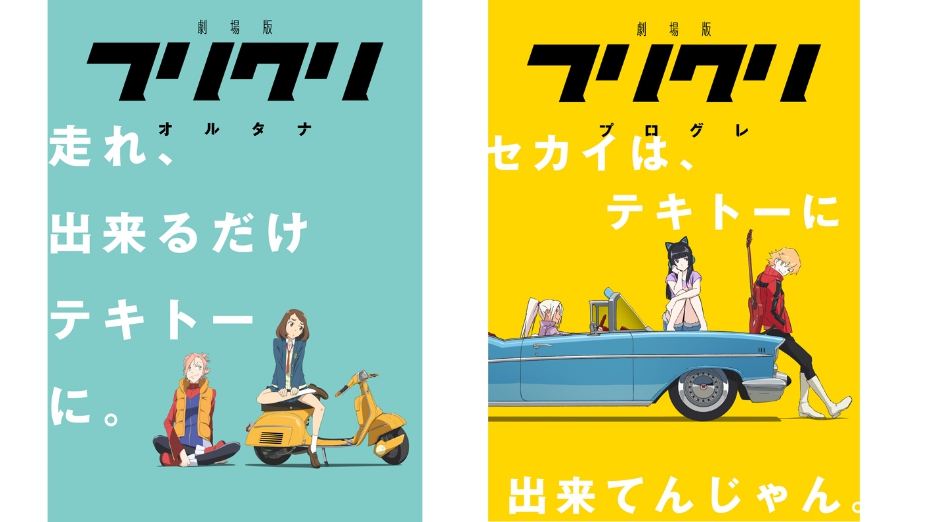 Staffs and Casts
In movie "FLCL Alterna" Mayumi Shintani plays Haruhara Haruko, and in the movie "FLCL Progre" Haruko splits into two personalities, one of them Harura Raharu played by Megumi Hayashibara and another Jinyu will be played by Miyuki Sawashiro.
The movie "FLCL Alterna" is directed by Yutaka Uemura, who was the director of "Saga of Tanya the Evil" and "Punchline".
The movie "FLCL Progre" is directed by Kazuto Arai who worked on "Re: CREATORS" and "Senki Zesshou Symphogear AXZ".
The movie premiere of "FLCL Alterna" on September 7!
Staff
Director: Yasushi Uemura
Deputy Director: Kiyotaka Suzuki
Screenplay: Hideto Iwai
Character Concept: Yoshiyuki Sadamoto
Character design: Yuichi Takahashi
Mechanical design: Kiyotaka Oshiyama (Studio Dorian)
Costume design: Hiromi Taniguchi
Prop Design: Yuji Hosogoe / Akishino Denforword Hiyori (Aki Production)
Art director: Ayaka Fujii
Color design: Chiho Nakamura
CG Director: Tsukasa Saito
Director of Photography: Shinji Todokoro
Edit: Yumi Jinguji
Music Director/Music: R · O · N
Acoustic director: Toru Nakano
Theme Song: the pillows "Star overhead"
Supervisor: Kazuya Tsurumaki
Overall Director: Motoyuki Katsuhiro
Animation Production: Production I. G × NUT × REVOROOT
Distribution: Toho Visual
Production: The movie "FLCL" Production Committee
Cast
Haruhara · Haruko: Mayumi Shintani
Kana Koumoto: Karen Miyama
Tomomi Nabeta (Pez): Yuuri Yoshida
Sei Yajima (Hijiri): Riho Iida
Mitsuru Motoyama (Mosan): Mutsumi Tamura
The movie premiere of "FLCL Progre" on September 28!
Staff
Director: Kazuto Arai/Toshihisa Kaiya/Yuki Ogawa/Yoshihide Ibata/Kei Suezawa/Ikehata Hiroshi
Screenplay: Hideto Iwai
Character Concept: Yoshiyuki Sadamoto
Character design: Chikashi Kubota
Character design: Mai Yoneyama
Mechanical design: Kiyotaka Oshiyama(Studio Dorian)
Prop Design: Shoko Murayama/Yoko Kuhara
Art director: Kazuhiro Arai
Color design: Noriko Arasawa
Director of Photography: You Takayanagi
Director of Photography: Hirohito Tanaka
Edit: Taeko Hamautsu
Music Director/Music: R · O · N
Acoustic director: Toru Nakano
Theme Song: the pillows"spiky seeds"
Supervisor: Kazuya Tsurumaki
Overall Director: Katsuyuki Honjo
Animation Productio: Production I.G
Distribution: Toho Visual
Production: The movie "FLCL" Production Committee
Cast
Harura Raharu: Megumi Hayashibara
Jinyu: Miyuki Sawashiro
雲雀弄ヒドミ: Inori Minase
井出 交: Jun Hukuyama
Official HP http://flcl-anime.com
©2018 Production I.G / 東宝
記事引用元:あにぶ(https://anibu.jp)