"ANiUTa", which was launched as a subscription service focusing on anime songs in March 2017, currently runs their business quite well despite the challenges posed by the circumstances surrounding illegal uploads, the sustainability of the record industry, and the surge in demand for overseas expansion. But how will they develop from here onwards? We interviewed Shiro Sasaki, the CEO and Representative Director of ANiUTa, to answer this question.
ANiUTa – The interview with CEO Shiro Sasaki – 1 year after launch
Interviewer: Fukumoto, Editorial Department
Interviewee: Shiro Sasaki CEO of ANiUTa
ANiUTa – Year One

It has been a year since the launch of the Anime Song Subscription Service ANiUTa. So, what is the current situation?
I felt that there was a huge demand from younger people as they listen to music mostly via subscription services outside Japan. In terms of the population ratio I think that Japan still has comparatively less users. Subscriptions are divided into two types, the "radio type" and the "on-demand type". ANiUTa belongs to the latter category, but while there are tens of millions of users in the United States, the number of users in Japan still ranges from only around 3 to 5 million.
I see. So you had the impression that subscription services are more prevalent overseas than in Japan?
The Japanese music market used to be similar to the market in Germany in the past, but since 2000 the German industry began to move toward standardizing subscription services from selling CD. As a result, the Japanese market has became isolated. Although young people don't  have CDs and CD's share was already quite small. Anime song CDs were not an exception. So for the anime fans, I wanted to provide a service where everyone can gather—a kind of "playground", if you will—and released ANiUTa.
What was the main focus for the first year?
For the first year, it was to create original ANiUTa content. For example, we produced and held the live event ANiuPa!!, for which we set up a whole new system of ticket presale for subscribers, and also published playlists which users can listen to to enjoy the concert more.
Our aim is to make anisong more enjoyable, so we offered various services that didn't stop at just streaming music.
Do you think that such services and ingenuity are communicated to users?
Yes. What I learned after continuing this service for a year is that the cancellation rate of paid subscriptions is very low. I think that ANiUTa is getting a good reception from people who like anime music.
Many people subscribed early on to purchase tickets for "ANiuPa!!", and after using it for a month, most of them continued their subscription.
Anisong Market and Its Sustainability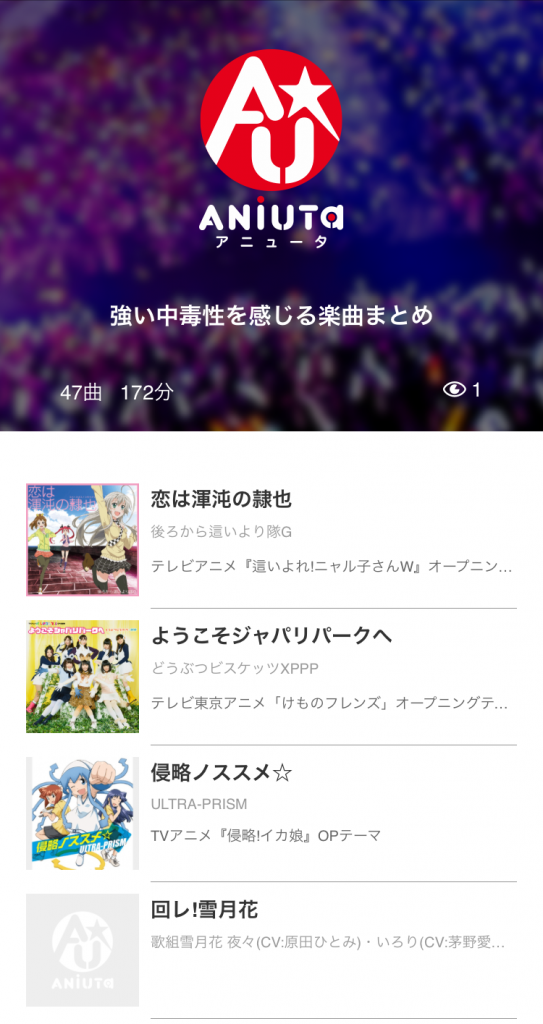 ©逢空万太・ソフトバンク クリエイティブ/名状しがたい製作委員会のようなものW
©けものフレンズプロジェクトA
©安部真弘(週刊少年チャンピオン)/海の家れもん
Next, I would like to ask questions from the viewpoint of the music labels. Many labels are currently cooperating with ANiUTa, but what kind of reaction do they have?
I felt a certain "fear" of the subscription service from them. However, it's not only anime music that suffered from the drop in sales of physical CDs. Sales has been falling for the entire record industry year after year, so I think that was a corresponding change.
I see. The appearance of ANiUTa is exactly like a sign of change. Next, let's talk about the problem of illegal uploads, which mediums like music and magazines suffer from a lot lately. What do you think about this?
Regarding this problem, although every label, composer, and artist have different opinions on it, illegal uploads are, of course, illegal, and they should receive their profit from their creations.
In terms of expanding the entrance to anisong, the music available at ANiUTa can be enjoyed at the very low price of 600 yen per month.
ANiUTa specializes in anime songs, but it is a reasonable price for the number of songs we have. In addition to that, we are also considering offering services worldwide, and so the standard of 5 USD affects pricing in Japan as well.
I believe there will be users buying physical copies from the app.
I agree. Looking at the anime industry today, I can see that the way people spend their money has changed even though there are a lot of people going to live performances of the voice actors and actresses. I think that ANiUTa wishes to operate to what they want more.
Global expansion of ANiUTa
Please explain your vision for ANiUTa in the global market.
One thing that we focused on during the last year after the release was the global market. We are currently working on a worldwide model of the app, and will try to distribute it by next year.
When ANiUTa was released last year, the function to search by anime title has become a hot topic even outside Japan.
Since many subscription services are already widely available overseas, it will be hard to find the songs you want to listen to if there are too many songs. Since ANiUTa has only anime music, I think that it is a very matched function for anisong lovers.
Distribution services of TV animation is already active globally, so I think that ANiUTa can expand to the global market, too.
Is the "search window" effective as a differentiating point from other competitors?
It is something you cannot do with other subscription services and I want it to spread all at once. Furthermore, as I mentioned earlier, we would also like to do more live performances. Although I haven't decided on a concrete story yet, I think that I would like to deliver Japanese lyrics in alphabet so that anyone can sing along.
Japanese lyrics in the alphabet?
Yes. When I go overseas to see live performances by Japanese artists, overseas fans can sing Japanese songs in Japanese. If we hold a live event with ANiUTa artists in the future, I would like to develop a kind of approach or service that makes it easier for everyone to enjoy anisong in Japanese.
Someday ANiUTa is going to be a worldwide service.
Overseas fans are very familiar with subscription services and ANiUTa is delivering in a global common application format that can be downloaded from Apple and Google, so I have very high expectations.
Can you leave a message to anime fans from overseas?
ANiUTa delivers overseas almost at the same time as Japan, and for TV sized versions, you can listen to them when the broadcast begins in Japan. As new songs are updated every month, it is a service where you can enjoy Japanese anime songs at exactly the same time as Japanese people. We are also working on a new foundation that allows you to enjoy Japanese anime songs, so please look forward to the release by all means.
ANiUTa – Year Two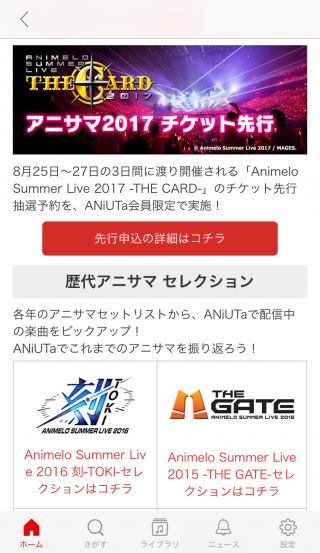 In the first year, you focused on the promotion of the service itself. What is your goal in the second year?
First of all, it's overseas expansion. I'll definitely put effort into this. And I hope to further enhance the original content as well as the ANiuPa!! concert to be held this year.
If I'm asked about what sets ANiUTa apart from the subscription services of other companies, I'll say that our service is unique in that it has music as well as other kinds of content.
Because the companies that holds the rights to the music are working with us, we can implement new projects that are totally unique. For example, last year, ANiUTa delivered an original project called "Wake Up, May'n!", which is a collaboration project between May'n and Wake Up, Girls!. We will continue to distribute this kind of original content next year as well.
I am very much looking forward to the original content as a fan.
Though such original contents are highly valued, the TV sized anisong distribution is highly rated, too.
Is it 90 seconds scale?
Yes. As for the TV sized songs, we will try to make it available right after the television broadcast of the anime, so you'll be able to enjoy it as soon as possible. Again, we can do this because ANiUTa has both the music and video rights of the songs.
To all the anime fans
To cap it off, please give a comment to our readers.
If you haven't subscribed to ANiUTa yet, do try the one month free trial and feel the goodness of ANiUTa! In particular, all the new songs of TV anime will be delivered in January, April, July and October.
We will continue to plan and carry out more original projects and make ANiUTa even more enjoyable!
Interview/Edit by Fukumoto
English translation by JMAG Editorial Department
WowNippon
Anime Song Subscription Service ANiUTa
Supported devices: Smartphone
Supported OS: Android / iOS
Number of songs: over 60,000 songs
Price: ¥ 600 per month (excluding tax)
※ 1st month free for the first time: iOS version starts the same day the next month, Android version starts billing after 31 days. Application for one user only.
Official website: https: //aniuta.co.jp/
© ANiUTa 2017 Co.,Ltd.