A star student struggles with his complicated feelings concerning his close childhood friend during their last years of high school in this third and last instalment in the Kimi to Boku to Sekai no Hotori ("You and Me at the Edge of the World") BL drama CD series.
Phrase 3: Kataomoi Sotsugyoushiki ("One-sided Love and High School Graduation")
Tsubaki Sanou (VA: Yoshitsugu Matsuoka) moved from Tokyo to Rokka with his family during his childhood years, settling down next to a local fisherman's family. Wandering out by himself one winter, the little boy got lost in the snow, but was rescued by Youta Funatsu, second son of his new neighbors, and the two were inseparable since. But underneath their close friendship, Tsubaki found himself tormented by the romantic feelings he held for Youta, and the constant fear that his love would be unreciprocated.
In an attempt to bury the suffocating feelings forever, Tsubaki learned to hide his true self, and made it his goal to be accepted in a prestigious university in Tokyo, so that he'd have a solid reason to leave Rokka—and Youta—far behind. Counting down the days to their graduation, Youta was relieved that he'd soon be able to say goodbye to his long-running emotional suffering, until his plans were suddenly thrown into disarray when a string of events led to Youta discovering what he really thought about their relationship…
Seiyuu Info
Youta Funatsu: Makoto Furukawa (Saitama/One-Punch Man, Banri Tada/Golden Time), etc.
Tsubaki Sanou: Yoshitsugu Matsuoka (Kirito/Sword Art Online, Souma Yukihira/Food Wars!: Shokugeki no Souma)
Series Info
Kimi to Boku to Sekai no Hotori is a series of BL short stories all set in the fictional town of Rokka, a quaint, snowy place located in Hokkaido, on the northernmost reach of Japan. Billed as "a series for those who wish to cheer for and watch over dreaming lovers from the sidelines", KimiTori offers a close-up look into the love lives of a different pair of lead characters with each instalment (styled as "Phrases"), set against special events like Christmas, Valentine's Day, and high school graduation. Each Phrase covers the progression of these leads' relationships—the ups, the downs, and of course, the spicier moments.
The series touts a few highlights that set it apart from other BL series, the most noticeable of which is the inclusion of full-scale opening and ending theme songs unique and thematic to each Phrase, sung by the leading duo of that volume. They make an appearance in the drama CD's course itself, and are also available as standalone tracks bundled with the story CD. The other highlight concerns the aforementioned "spicier moments": the series boasts a full recording of the featured pair's "first time" with each other, doing away with the fade-out cropping that most other BL titles utilize to preserve the scene's full effect. Additionally, a clever use of cameos also introduce the stars from the other volumes as side characters in each story, giving a clear connection between all the separate titles as different stories set in the same universe.
Track Information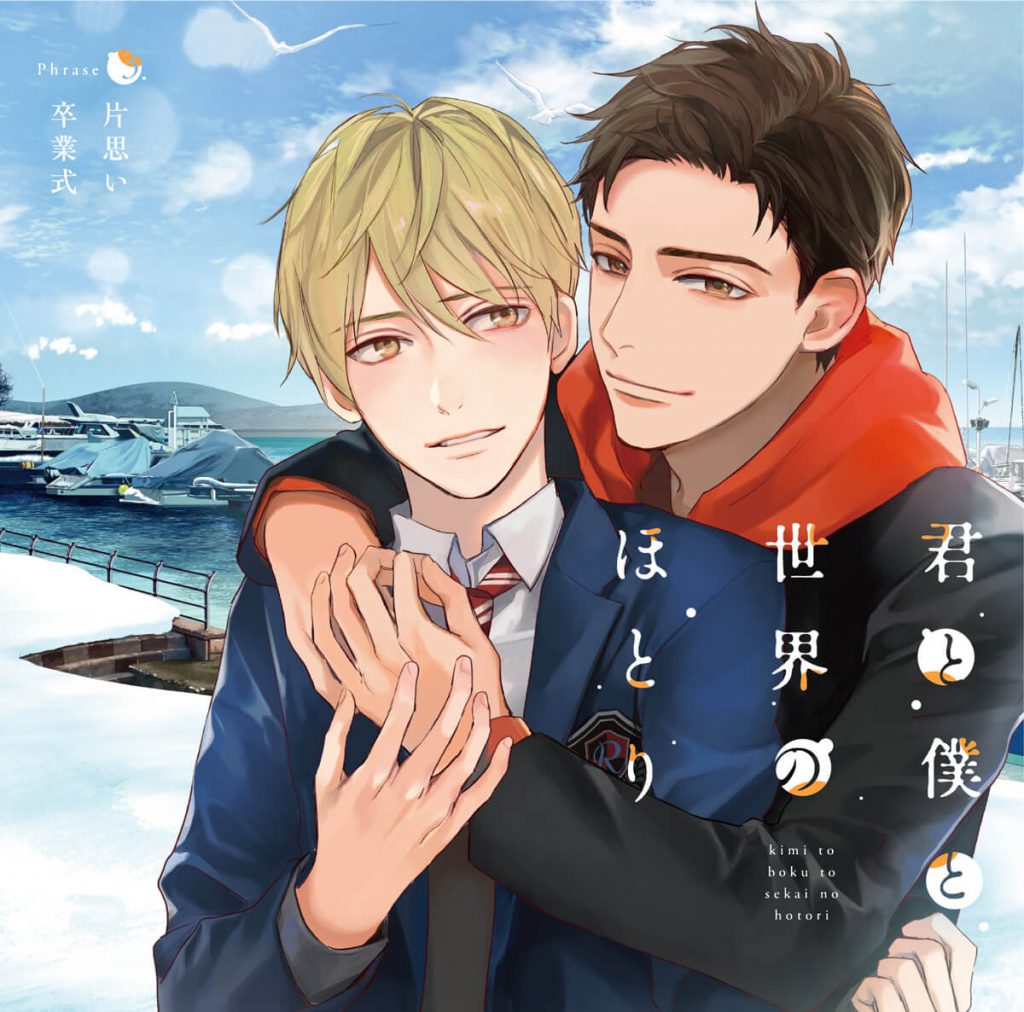 CD 1: Story
1. 潮かおる、君の住む街 (Shio kaoru, kimi ga sumu machi, "The town you live in is filled with scent of the sea")
2. はじめての熱と嘘 (Hajimete no netsu to uso, "The first fever, and the first lie")
3. 塗り固めた仮面の小さな罅 (Nurikatameta kamen no chiisa na hibi, "A small crack on a hardened mask")
4. 雪解け待つ冬のマリーナ (Yukidoke-matsu fuyu no marina, "The winter marina that waits for the snow's thawing")
5. 神様、どうか (Kamisama, douka, "Please, God—")
6. 幼馴染には戻れない (Osananajimi ni wa modorenai, "We can't go back to just being childhood friends")
7. 隠した鼓動を重ね合って (Kakushita kodou o kasaneatte, "Our hidden heartbeat becomes one")
8. ふたり、朝焼けの空の下 (Futari, asayake no sora no shita, "Both of us, together under the early morning sky")
CD2: OP/ED Songs
1. ロスト・フェアリーワールド ("Lost Fairyworld")
2. 同じ空が呼んでる (Onaji sora ga yonderu, "The same sky is calling out to us")
3. ロスト・フェアリーワールド (Instrumental)
4. 同じ空が呼んでる (Instrumental)
Official Site http://sekai-hotori.com
Official Twitter:@kimitori_pj
Official Instagram:@kimitori_pj
© PONY CANYON