The anime adaptation of "Cells at Work! CODE BLACK", serialized on "Morning" is decided! The first PV & key visual, and information of the main staff & main cast are revealed along with this announcement.
"Cells at Work! CODE BLACK" 1st PV
The director is Yamamoto Hideyo ("Strike the Blood") and animation is produced by LIDENFILMS. For the main casts, Red Blood Cells is voiced by Enoki Junya, White Blood Cells (Neutrophil) is voiced by Hikasa Youko, and the narrator is by Tsuda Kenjirou. The TV Anime broadcast will start from Jan. 2021.
"Cells at Work! CODE BLACK" Key Visual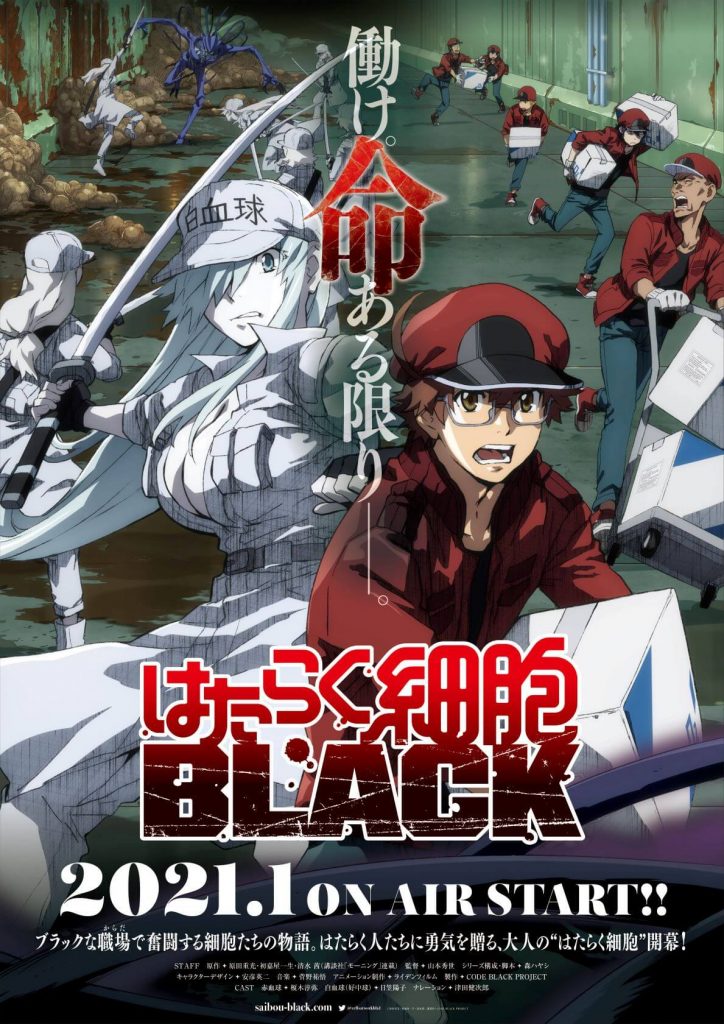 "Cells at Work! CODE BLACK" is a spin-off of the famous comic "Cells at Work!" that is currently serialized on "Monthly Shonen Sirius". It depicts the overworked and tired state of the cells in a body that is turned BLACK due to stress and bad habit such as "drinking", "smoking", and "lack of sleep".
"Cells at Work!" depicts the personification cells and center on the Red Blood Cells and White Blood Cells as they introduced the activities of each body cell. It had garnered a lot of attention as it has a manga, anime, and stage adaptation. This is the fight that the cells are risking their lives to resist the endless despair! Do look forward to the story that will give bravery to everyone who is working hard in this world!
Official Site https://saibou-black.com/
Official Twitter @cellsatworkbla1
©原田重光・初嘉屋一生・清水茜/講談社・CODE BLACK PROJECT