TV animation "URAHARA" which started broadcasting on October 4th 2017 is the new Anime series by Crunchyroll of overseas animation distribution platform.
It has been reborn as an original animation series by Japanese creators as it is, with its unique view of the world and color of the original work. PARK is a fashion and accessories shop where we as TPG staff has visited in 2015. In addition, we introduced on TOKYO POP GUIDE No.3. So we came to visit again.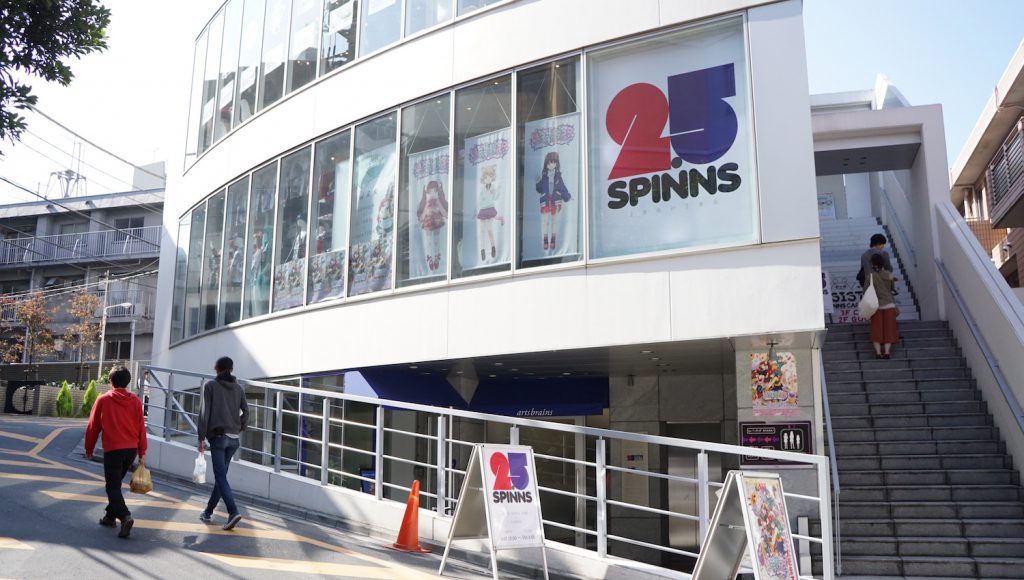 This wavey and characteristic building impresses once you see it. Three girls of "URAHARA" are visible from the window of 2.5 SPINNS on the second floor.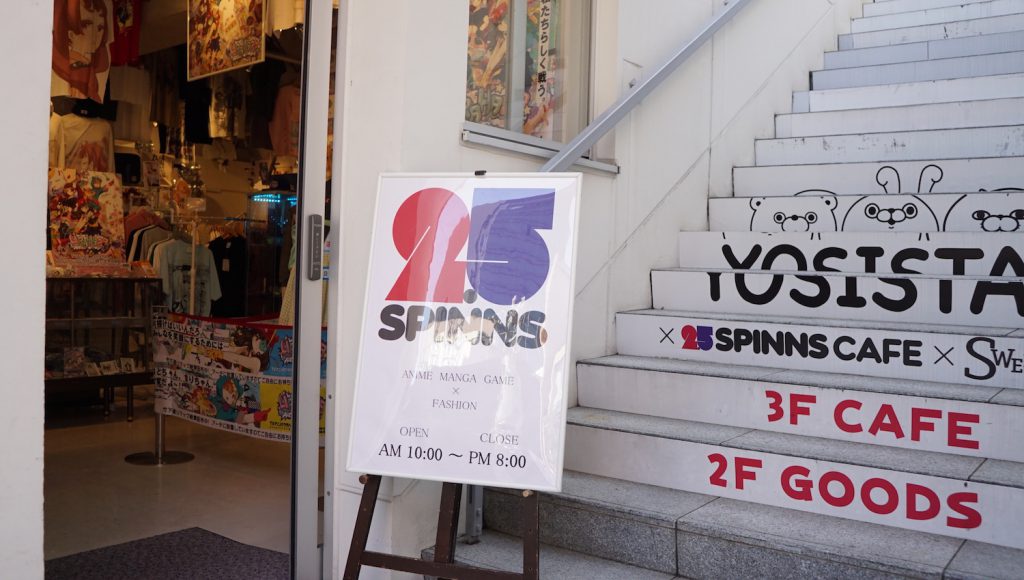 There is an entrance on the second floor of this building. PARK is in one corner of 2.5 SPINNS.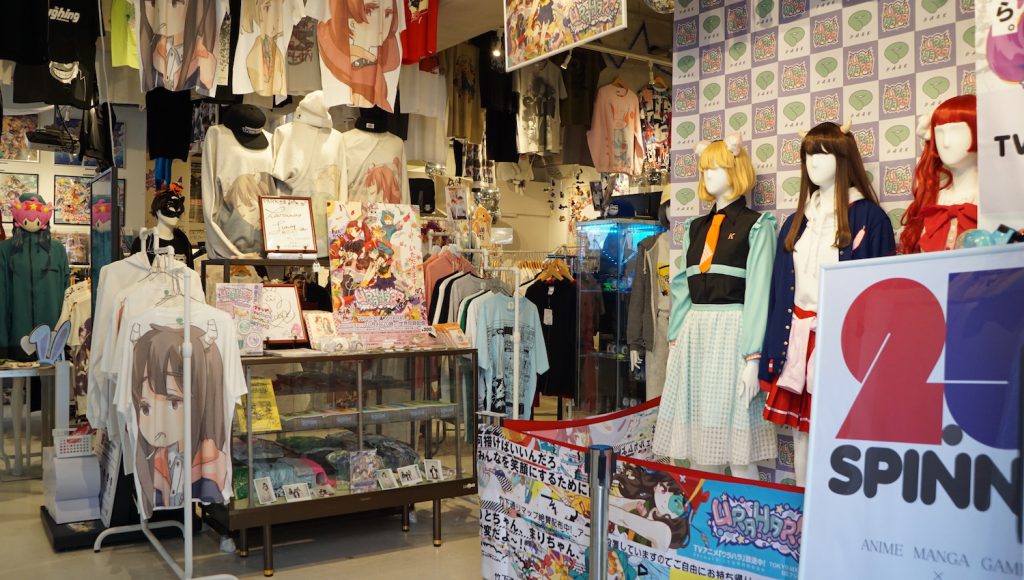 When you entered, there is a space of pop culture and fashion collaboration.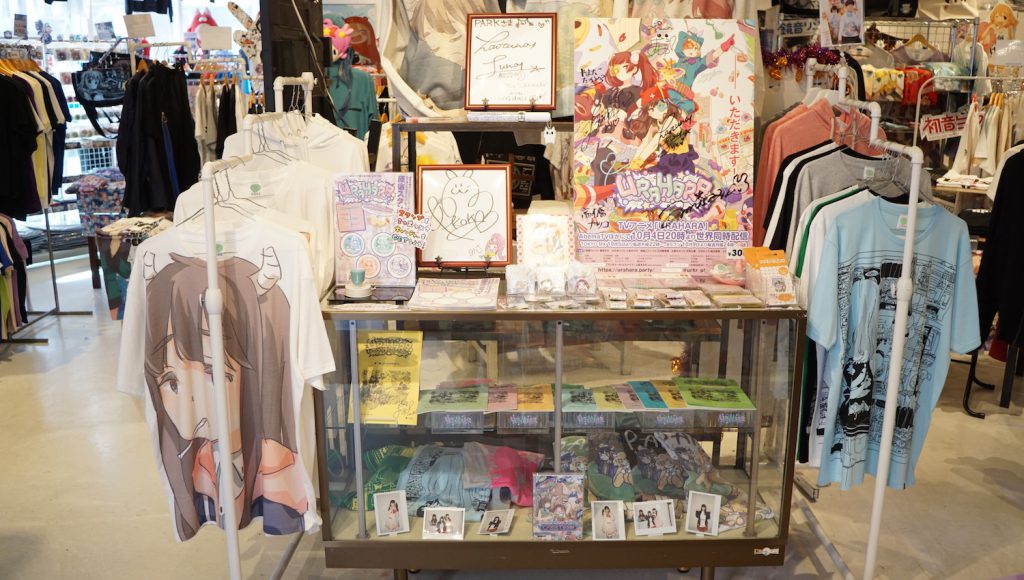 "URAHARA" goods, PARK goods, scripts and autographed colored papers are also on display at the entrance.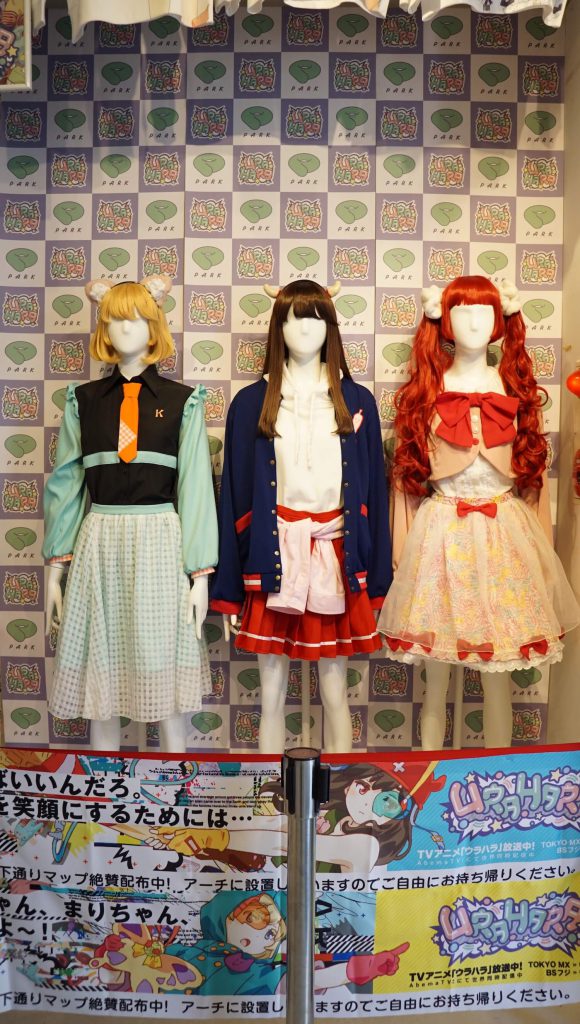 On the right hand is the costume of three characters who actually work in PARK in the story (right from Mari CV: Sumire Uesaka, Rito CV: Luna Haruna, Kotoko CV: Manaka Iwami) are exhibiting.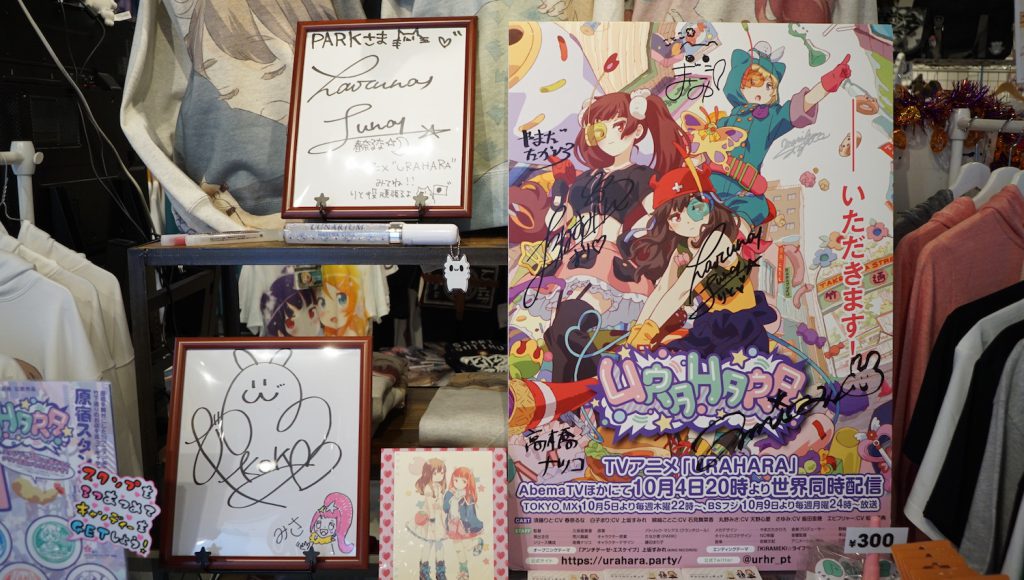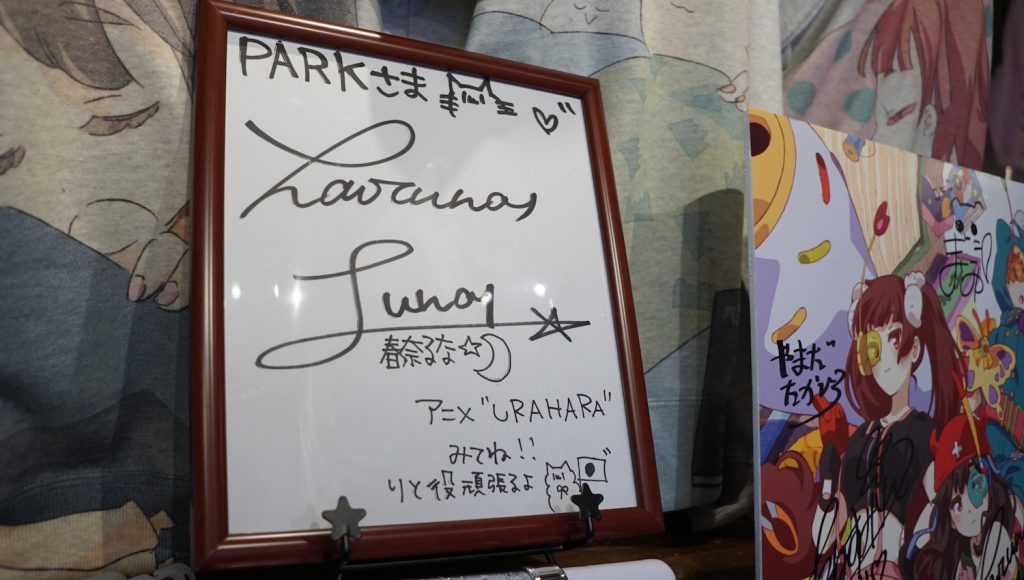 There is an autograph of Luna Haruna who became the voice actress for the first time.
昨日はPARKと原宿スタンプラリーに行ってきたよ!景品のキャンディーも無事ゲットできました♡PARKにるな氏のライブグッズがたくさん置かれていて、とても胸が温かくなりました…*ありがとうございます…*スタンプラリーは今月いっぱいみたいなので、まだ行ってない方は是非行って見てね〜! pic.twitter.com/zZB5eoH0cK

— 春奈るな (はるなるな) (@luna_galaxy) October 25, 2017
She already has tweeted!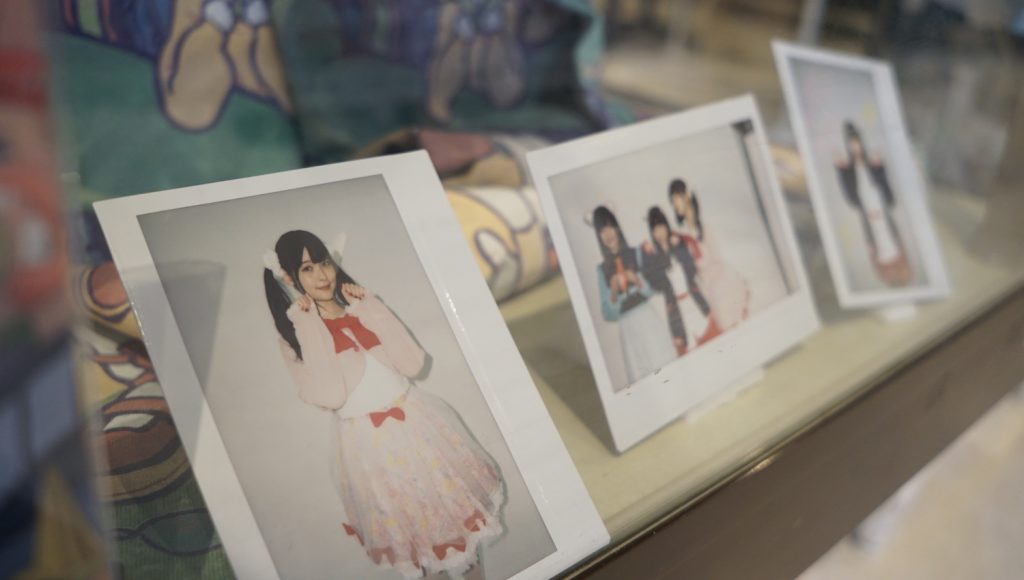 And in the glass case you can found photographs of all the casts including Sumire Uesaka.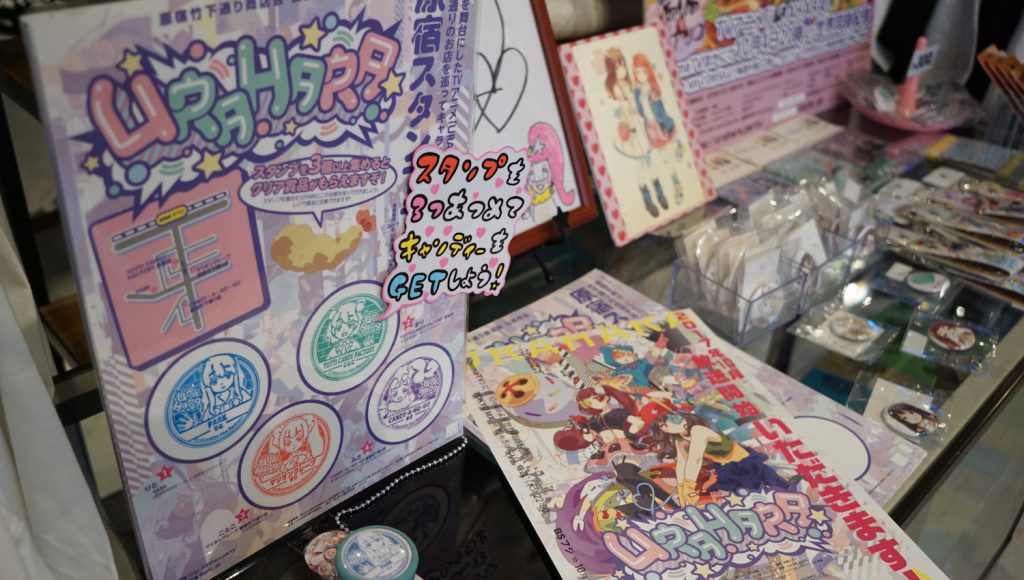 Stamp Rally was held in Harajuku until October 31 (Tuesday).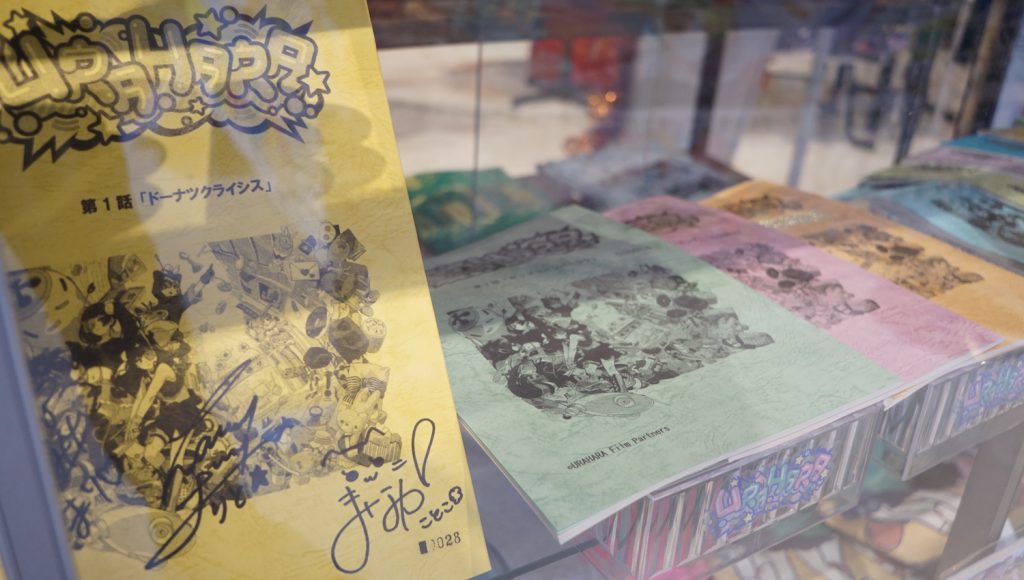 They are script books with autographs including the episodes that have not been broadcasted.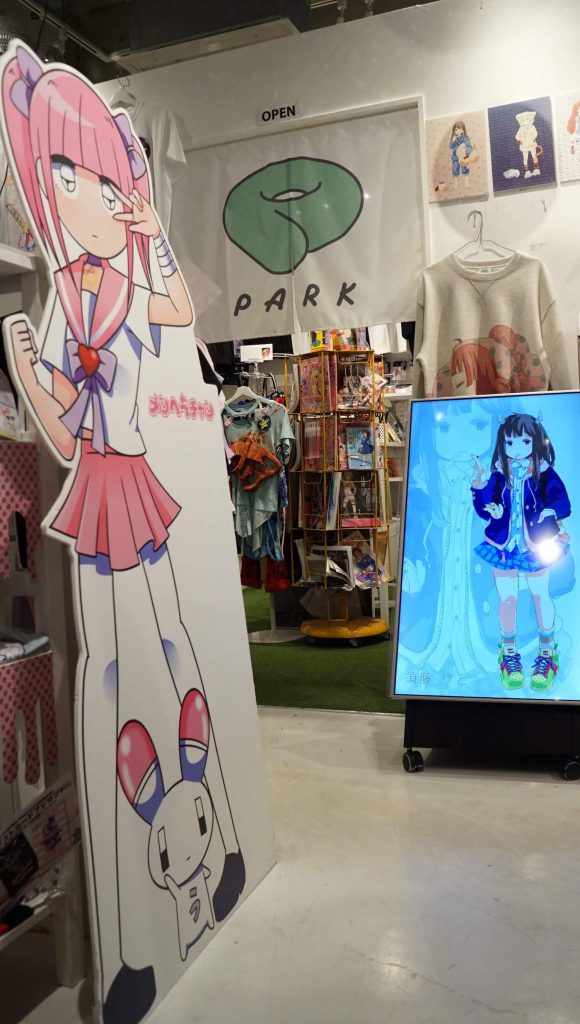 At the entrance of PARK, Bisuko Ezaki's stand panel "Menherachan" welcomes you.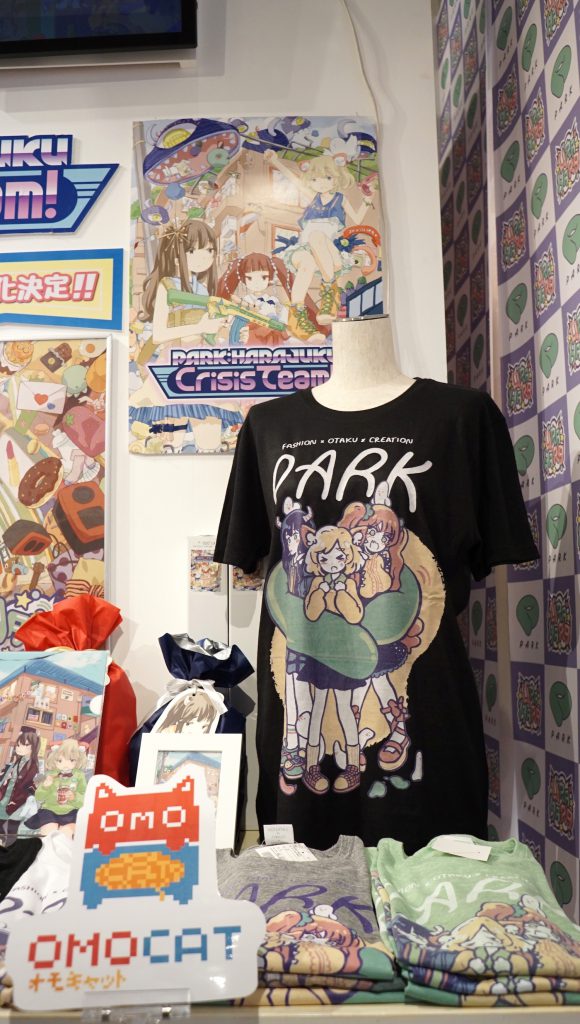 There are PARK and OMOCAT's original design T-shirts. OMOCAT is a creator who collaborates with various contents and creates original designs like Japanese Otaku taste has been designed abroad and came back…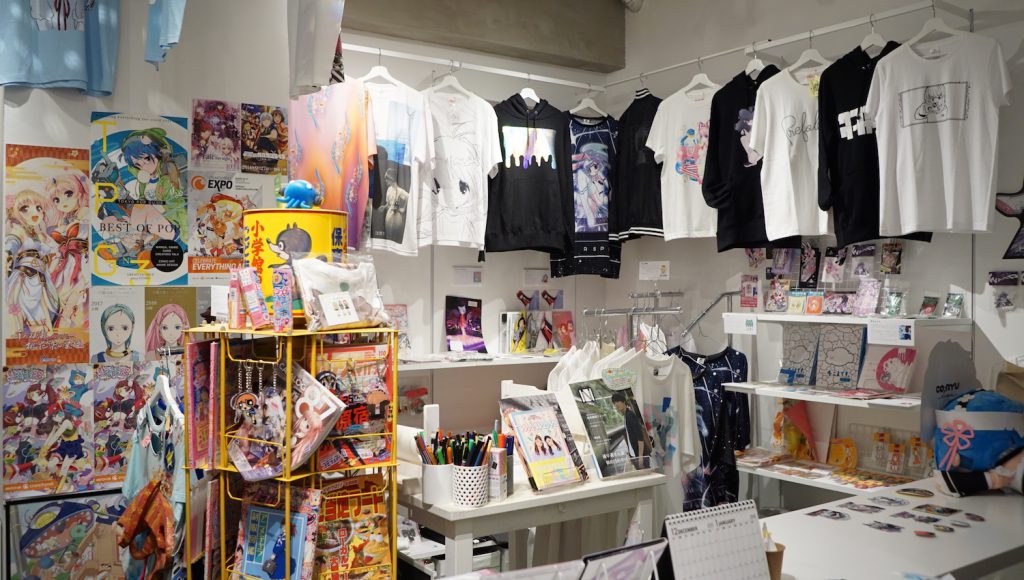 There are a number of apparel goods designed by various creators in PARK.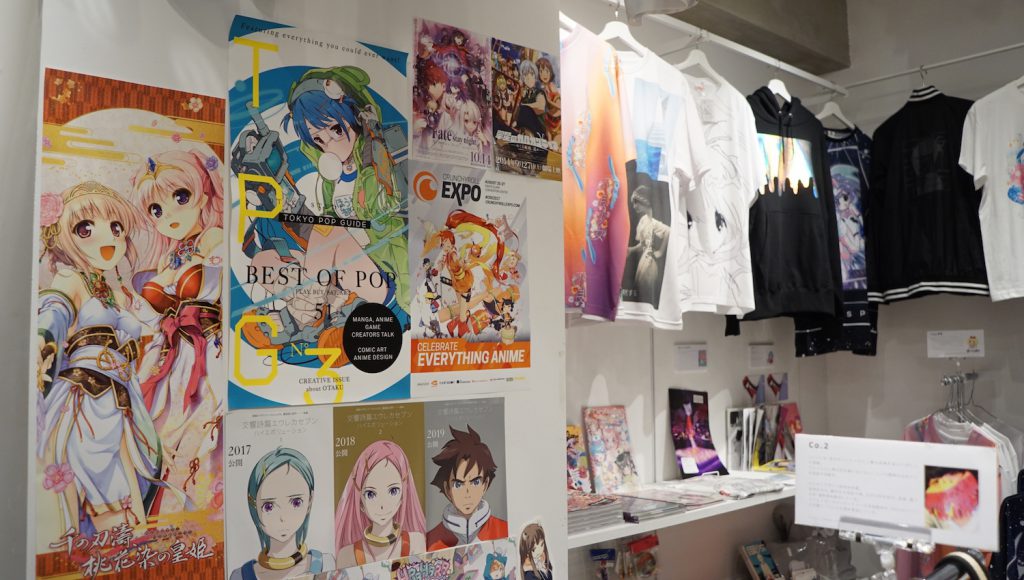 We found the poster of TOKYO POP GUIDE!
You should come and visit the shop where the fusion of Akihabara 's Otaku element and trends of Harajuku.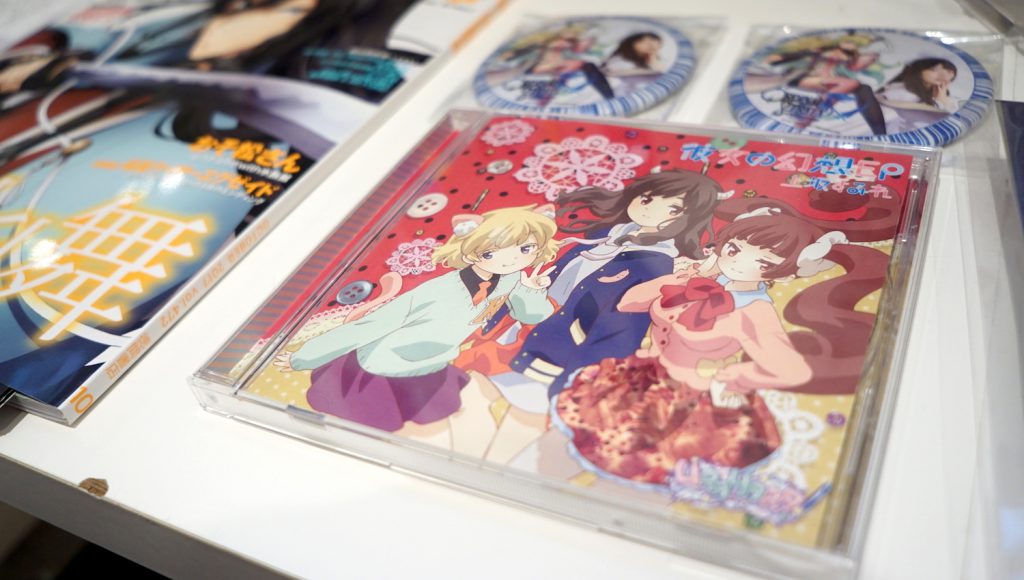 The CD jacket of the special mini album of Sumire Uesaka including TV anime "URAHARA" with limited design that used the original anime drawing.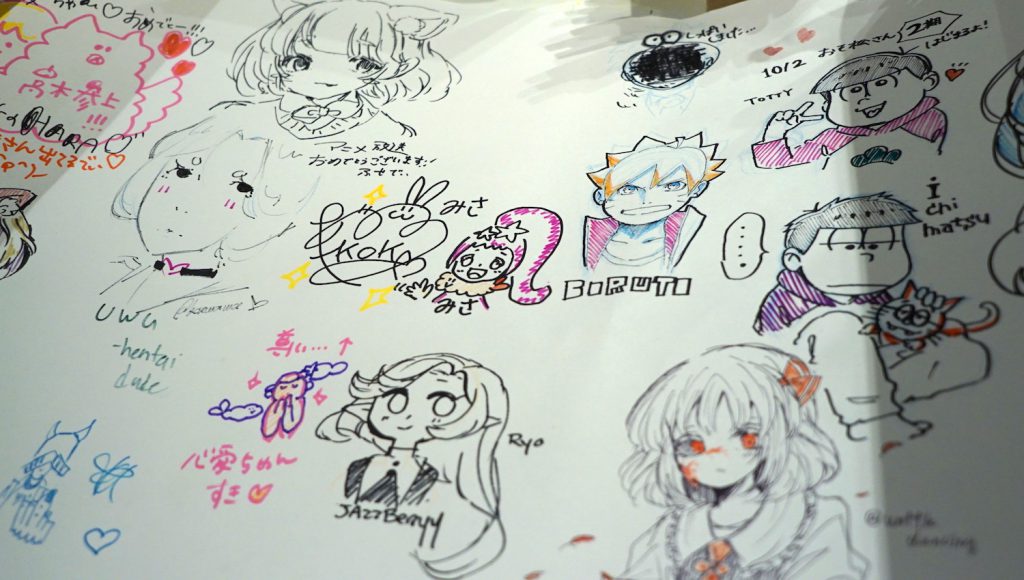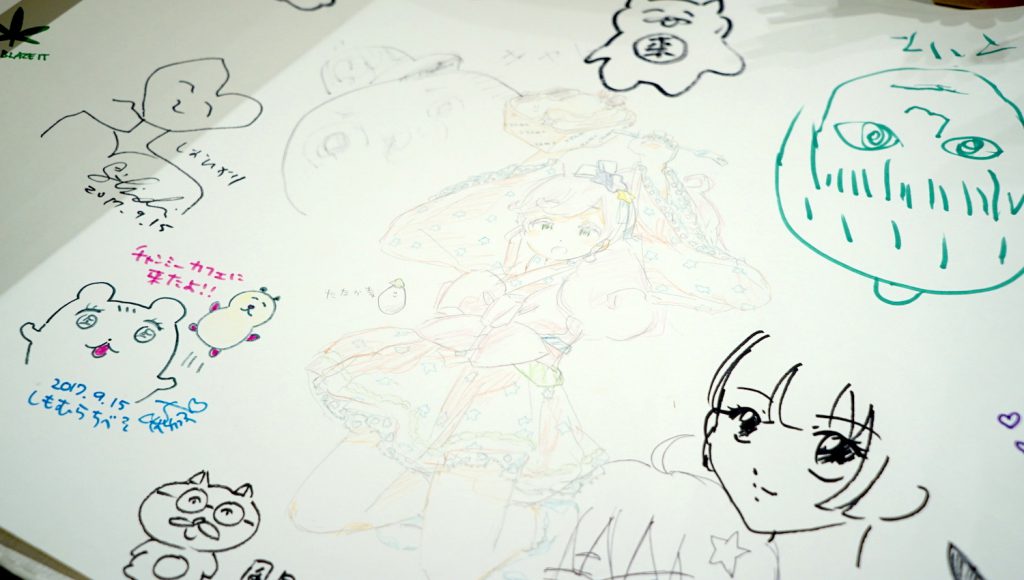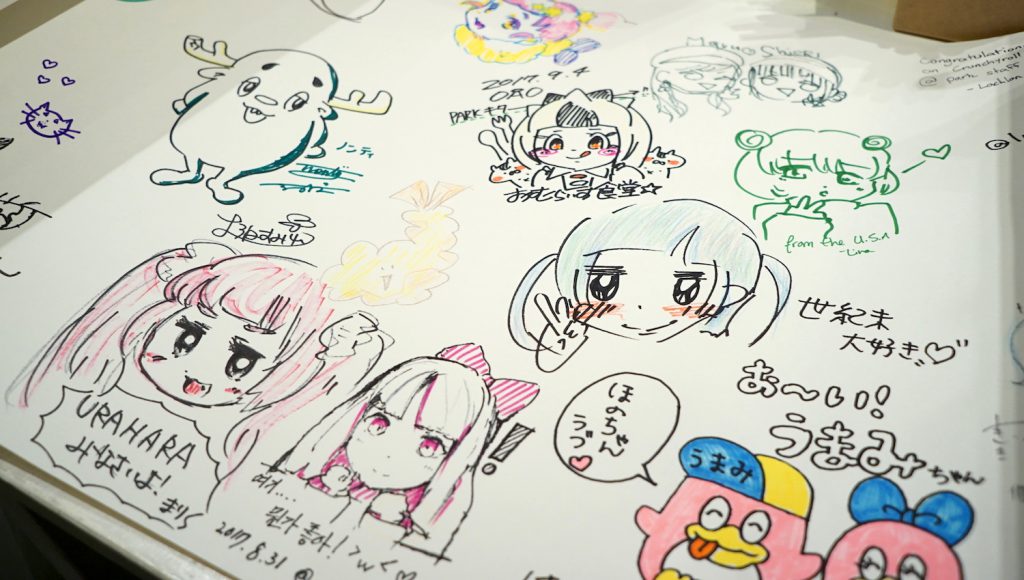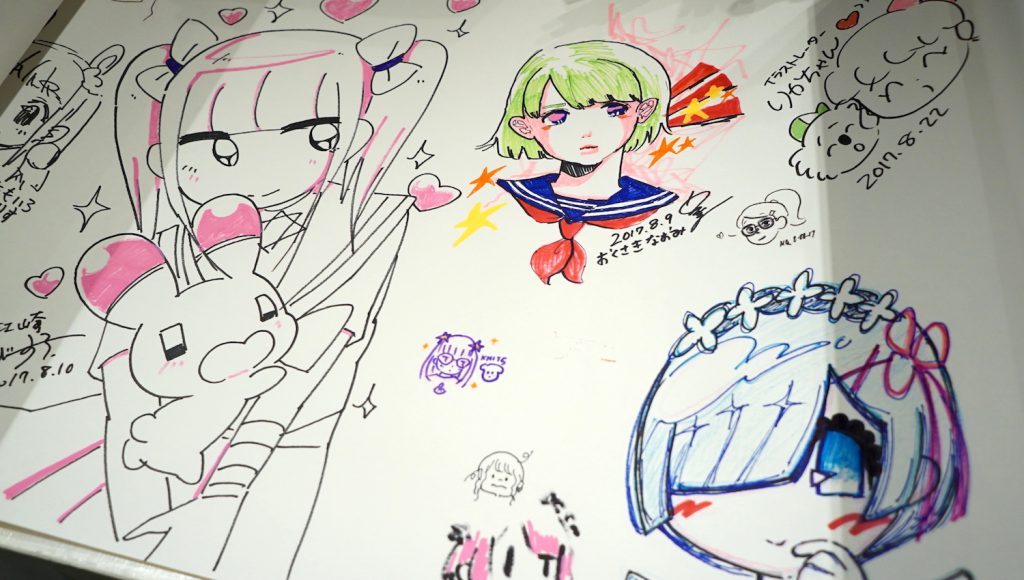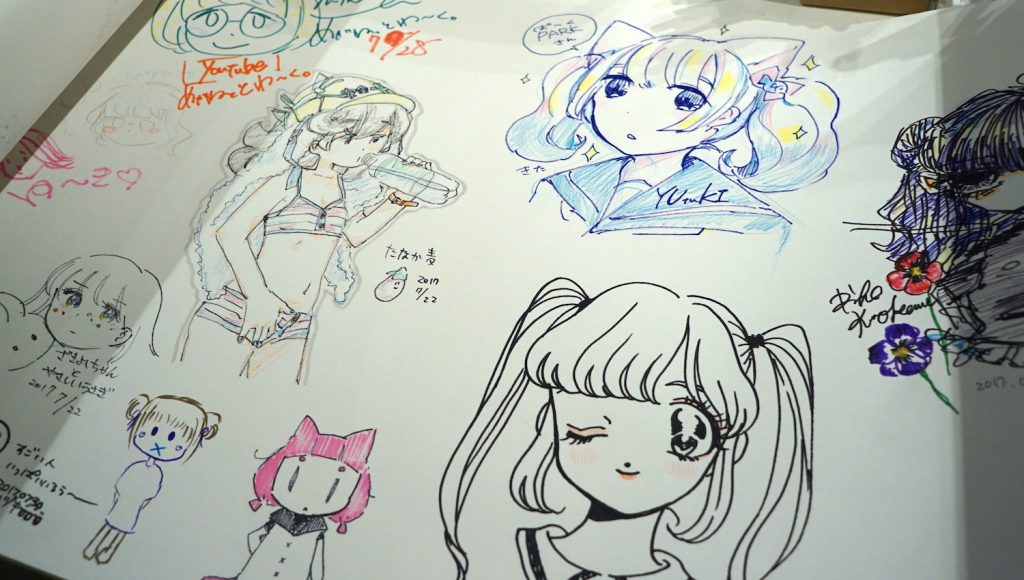 The last thing I wanted to introduce is the illustrations left by various creators drawn on this drawing roll & paper easel. It seems that it is permanently installed in the shop and is regularly updated!
---
PARK FASHION×OTAKU×CREATION
Opening: 11:00-19:00
TEL: 03-5413-0166
Address: 2.5 SPINNS, Zinguumae 115 Bld.2F, 1-15-2, Jingumae, Shibuya-ku, Tokyo, 150-0001, Japan [MAP]
Official site: http://www.park-harajuku.com
twitter: https://twitter.com/park_harajuku
---
URAHARA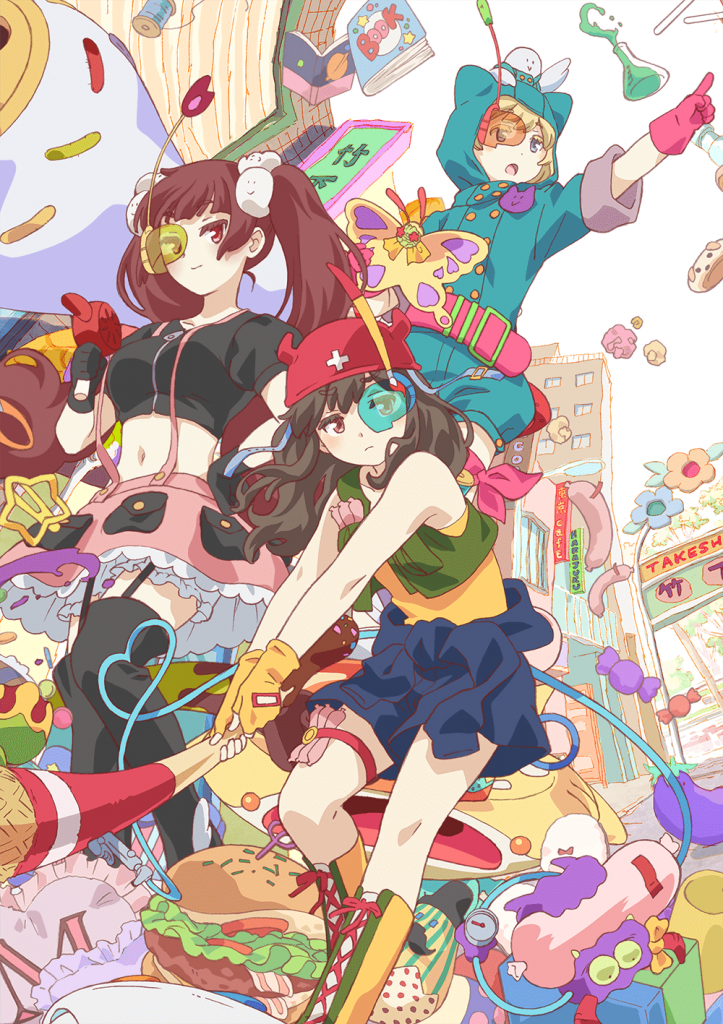 Story Crunchroll: http://www.crunchyroll.com/urahara
Harajuku…The place where culture, kawaii, and fashion come together. Three high school girls Rito, Mari, and Kotoko are planning to open a temporary store called Park. One day, aliens from space come to Earth to take away the culture of humans. That's when a mysterious girl who calls herself Misa appears. Now, in order to protect the Harajuku that they love, these three girls must be prepared for anything!
Official TV Animation: https://urahara.party/
© URAHARA Film Partners